About Us
Canadian MoneySaver is an acclaimed investment publication with a recognized reputation for providing a trustworthy and down-to-earth service since 1981.
When you subscribe to Canadian MoneySaver, you are automatically entitled to the full menu of privileges.
EXCLUSIVE MEMBERSHIP BENEFITS
Canadian MoneySaver guarantees to provide the following exclusive benefits and privileges to our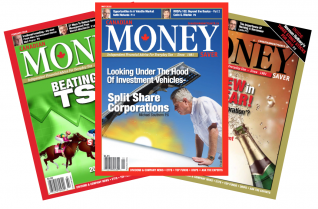 members.
Subscription to Canadian MoneySaver
Includes 9 issues a year at about 42% off the newsstand price. As a member you are guaranteed the lowest renewal rate. Canadian MoneySaver comes to you chock full of exclusive articles in its 40 pages.
Unbiased Information
We have no financial advertisers to satisfy. We work for you by exposing the pros and cons of investment products and the pitfalls to avoid so all your hard-earned money is working for you. And all for an affordable cost, much lower than any other financial publication in Canada today.
Members-Only Conferences
Join other like-minded members at our investment conferences. Presentations are held regularly at various locations in Canada. You can meet our experts personally. See MoneySaver Events.
Exceptional Online Service
We offer a discount on our second service — print or online. For example, as a digital member you may add our second service — a print membership — at 21% off the regular rate. Enjoy immediate access to Canadian MoneySaver's archives — a searchable database since 2001 of over 4,200 information-packed articles, full editions of Canadian MoneySaver since January 2001 and comparison data. Our new website makes keyword searches easier, if you are not sure of an author's name or article title.
From our contributing editors, you'll learn how to:
get the highest return for RRSPs, RRIFs, annuities and pensions;
boost profits with the best term deposits, GICs, bonds, and income trusts;
maximize gains on dividend stocks, closed-end funds and global investments;
use everyday legal advice to save you lots of time and money before visiting a lawyer;
buy stocks and mutual funds at no load, and other investments at discounts;
slash your insurance premiums significantly;
buy, sell and manage real estate profitably;
cut your taxes to the bone;
keep more of your money through retirement and estate planning strategies;
profit from time-tested portfolios such as Dividend Reinvestment Plans (DRIPs);
buyback stocks, insider trading and Share Purchase Plans (SPPs);
save money on travel bargains, consumer purchases and everyday services.
In short, Canadian MoneySaver deals with all the money matters that affect your life and your financial security.
Canadian MoneySaver shows you the money-saving, money-making opportunities you may be missing. In every issue, you'll find...
Top Mutual Funds
One of the best and most objective tools available today for making profitable mutual fund purchases or sales. We illustrate the fund categories with the essential data, so you can select the best funds.
DRIPs with SPPs
All TSX companies with a DRIP and SPP, which you can buy at no commission are profiled. Hundreds of U.S. companies, too.
Ask The Experts
Have a question about taxes or investments? Contact us. One of our experts will answer. You won't pay $75 or $100/hour. There's absolutely no cost or lengthy waiting time!
Money Tips
Short practical hints to help you get the best value on everyday purchases, investments and services
Book Features
The best of recently published money books are highlighted. These books include those of our contributing editors.
MoneyDigest
Top newsletter editors give you their comments and recommendations as published in their quality publications. We save you time by summarizing their profitable strategies.
WHAT OTHERS SAY...
Please take the opportunity to read what others have said about Canadian MoneySaver over the years — from both the media and Canadian MoneySaver members.
WRITERS' PROFILES
You can read our contributing editors' profiles below (highlighted in red).
Our Staff

CHIEF EDITOR AND PRESIDENT

EDITOR

Lana Sanichar

Peter Hodson

CONTRIBUTING EDITORS

Ed Arbuckle, Margot Bai, Robert Barney, Dan Bortolotti, Ian Burns, Bruce Cappon, Avrom Digance, John De Goey, Donald Dony, David Ensor, Ken Finkelstein, Derek Foster, Benj Gallander, Shelley Johnston, Robert Keats, Cynthia Kett, Ken Kivenko, Camillo Lento, Marie-Josee Loiselle, Patrick Longhurst, Brenda MacDonald, Gina Macdonald, Robert MacKenzie, Ross McShane, Caroline Nalbantoglu, Tim Parris, Peter Premachuk, John Prescott, Brian Quinlan, Rino Racanelli, Scott Ronalds, Norm Rothery, Stephane Ruah, David Stanley, John Stephenson, Brian Tang, Angelo Vicere, Becky Wong, Colin Ritchie, Allan Small, Jason Heath, Barbara Stewart, Rita Sylvan,
Ellen Roseman

WEBSITE MANAGER
Tilted Pixel Inc.
Click here for our MEMBERSHIP RATES.
Canadian MoneySaver is published by:
The Canadian Money Saver Inc,
c/o 5i Research Inc,
470 Weber St North
Suite #104.
Waterloo, Ontario.
N2L 6J2

Telephone: 519-772-7632

Web site: http://www.canadianmoneysaver.ca
E-mail: moneyinfo@canadianmoneysaver.ca
Canadian MoneySaver publishes monthly with three double issues (July/August, November/December and March/April). Canadian MoneySaver is an independent, membership-funded magazine without paid advertising. Canadian MoneySaver is not connected with any bank, brokerage or other financial institution.
Copyright 1981 to 2021. All rights reserved. No reproduction, transmission or publication of any of the contents of Canadian MoneySaver is permitted without the express prior consent of the copyright owner. To obtain permission to use any part of Canadian MoneySaver, contact Lana Sanichar, editor-in-chief.