WELCOME!
Canadian MoneySaver is an acclaimed personal finance magazine with a recognized reputation for providing a trustworthy and down-to-earth service since 1981. Available nationally in print and online versions.
Our Magazine
Online

*

Version (9 issues) -

$19.99

Print Version (9 issues

)

- $26.95

Print AND Online

*

Version (9 issues) -

$36.95
*Online version gets you full access to 14 years of magazine and article archives, as well as special 'online only' articles.
Freebies

Article: Bitcoin for the Wary

Article: What Makes a Good Investor

Article: Is It time to Add some Income Stocks?
Special Editions
Get Your
Canadian MoneySaver Special Editions
"Young Money"
and
"5i Research Talks Stocks and Investing"


If you would like a hardcopy, please send a cheque in the amount of $5.20 (GST)/ $5.59 (HST) per copy to
Canadian MoneySaver,
470 Weber St N, Suite 104
Waterloo, ON. N2L 6J2
Click Here to Download your FREE digital copy.
---
The MoneySaver Podcast
Personal and Business Benefits due to Covid - 19 explained by Janet Gray, Certified Financial Planner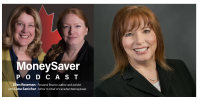 Have you been affected by the Covid -19 pandemic? Janet Gray, Certified Financial Planner, and Ellen Roseman discuss the different benefits that are available to Canadians and Canadian businesses rolled out by the Government of Canada. They discuss the Canadian Emergency Response Benefit, Canada Emergency Business Account and a host of other benefits that are available.
The July/August 2020 edition of Canadian MoneySaver has been mailed.
The July/August 2020 edition of Canadian MoneySaver is now available for online Members. Click directly on the Current Issue button once you have logged in (Online Members), or look under the "Issues" in the Subscribers Tab above.
---

Canadian MoneySaver still prints Magazines!
In October, an interesting development occurred in the publishing space. Rogers Communications, publisher of MoneySense and dozens of other titles, decided to stop printing it and numerous other magazines.
Sure, maybe it is a sign of the times, as the whole world goes digital. But, we think, it is also a bad move. There are a lot of customers who still like printed copies of magazines. Maybe they're older, but their money is just as good as a young customer's. Maybe they just prefer printed copies, like many do.
Here at MoneySaver, we have no plans to stop printing. If you want a printed version of your magazine mailed to your house, you can still get one. We have no intention of stopping as long as we have dedicated readers.
So, if you know some neighbours and friends who don't like this total shift to the digital world, perhaps
direct them to our magazine for a printed version. Keep in mind we have a referral service, where you
get extra months added to your subscription if you refer a new customer to us.
---

In The Spotlight!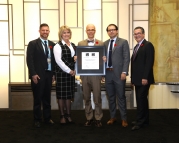 Congrats to CMS author Keith Richards and his crew winnng the Canadian Business Excellence Award!