>
>
Canadian MoneySaver Events
Canadian MoneySaver Events
Upcoming Canadian MoneySaver activities are described here. The only activities listed are those attended by Peter Hodson and other MoneySaver staff. MoneySaver does not make transcripts, reports or videos available for any of its conferences. Please call (519-772-7632) or e-mail Canadian MoneySaverfor further information.
Past Canadian MoneySaver Events - View the wide range of conferences and other special events hosted
by Canadian MoneySaver. Our future events are listed below.
---
Webinar with
Ed Arbuckle
"The Ten Silos of Disability"
January 31, 2019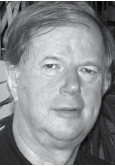 More than likely Henson trusts and Registered Disability Savings Plans stand at the top of discussions about disabiliy and personal finances--so much so that they dominate everything else. But have families considered other important issues such as a life plan, legal issues like guardianship and powers of attorney, appropriate housing options, estate planning for the next generation, caregiver continuity or beneficiary rights to pension plans on the death of a parent. Come and hear Ed talk about disability in language you can understand.
When: January 31, 2019
Time: 1pm EST
SUBSCRIBE
To the Print edition of Canadian MoneySaver Magazine for $26.95 (+tax) per year