Apr 3, 2014 9:00 AM
A Message from the Editor
We are going to change the CMS cover page very soon. We have two goals in mind with this change (a) Getting more exposure and sales in the in-store magazine market and (b) Attracting more readers to our publication. Both goals, if met, will allow us to continue to provide many of the complimentary services such as webinars as well as educate Canadians on how to keep as much of their money as possible.
Nothing inside the cover will change, we will still present the same unbiased financial advice that we have been providing now for 32 years.
We have a great roster of writers for CMS, and our new cover will provide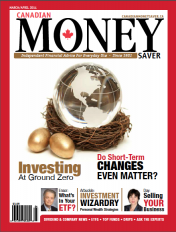 them more exposure as well. Authors' pictures will be on the cover, because they are the most important part of our service. We want to highlight their expertise, as they have very good advice for investors.
Our magazine is about money: how to make it and how to protect it when you have it. Independent Financial Advice For Your Everyday Use. That is what we are all about.
To that end, we are placing less emphasis on 'Saving' but of course it will still be part of our name.


Because we have used the same cover for so long, some may be worried that our magazine will change. Trust us, it will not. We are just spicing up the cover, so that we can help more investors who may not know about us just yet.
We would love your feedback!
Regards,
Peter Hodson, Editor
CanadianMoneySaver.ca