Dec 12, 2022 4:26 PM
THAT Infamous Rogers Outage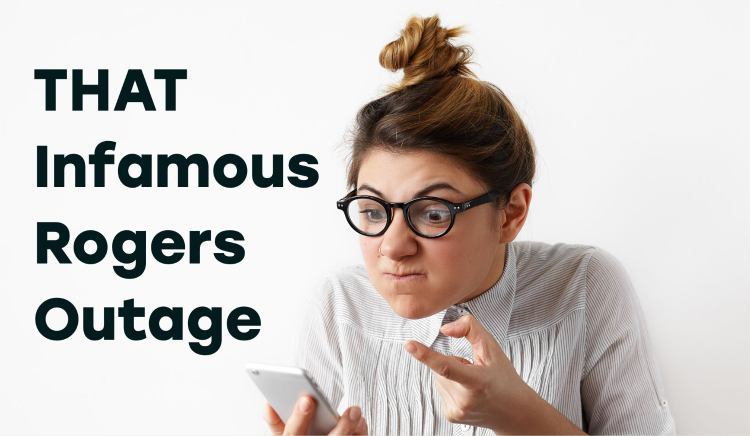 Do you remember the infamous Rogers outage on 8 July 2022, also known as Red Friday – when a routine maintenance update backfired and led to a shutdown of services for customers across Canada?
A coding error in a routine maintenance update deleted a routing filter in its distribution routers, Rogers later told the CRTC. This caused the routers to propagate "abnormally high volumes of routes throughout the core network," leading some network equipment to exceed capacity and fail.
Like many customers, I had no idea what was going on that morning when I woke to find my phone had no coverage. Was our wi-fi network down? To test that theory, I went outside, but my phone still didn't work.
There I met a neighbour who warned me to carry cash if I planned to buy anything. He had tried to fill his large car with gas, but his credit card was not accepted at the pump. Luckily, he had a $20 bill in his pocket, enough to take him a short distance.
That's when I learned about the widespread Rogers outage, which had blocked all our communication channels at home —internet, wireless phones, home phone and TV service. We didn't even have any plug-in radios, having ditched them for electronic Echo speakers to play music and news.
Being cost-conscious, we'd moved our Bell home phone account to Rogers many years ago for a bundle discount. More recently, we installed Rogers Ignite, which put our TV, Internet, and home phone onto a single platform, affording both savings and convenience.
Did I feel vulnerable on July 8? You bet. I never imagined that our entire home electronics system could black out and not snap back within a few hours.
At noon that day, I was meeting a friend for lunch in a part of Toronto I didn't know well. Without the internet or a mobile phone, I couldn't reach her, so I started driving while trying to find the restaurant. My trusted assistant, Google Maps, was unavailable. This made my trip more challenging and required me to do a few 360-degree turns.
By 6 p.m. that night, my emails started showing up again, slowly and in clumps. What a relief! Our TV reception took longer, waiting until the following day to go back to normal.
But I did see a Rogers spokesperson interviewed on TV during the outage, and I was not impressed. As a technical specialist, he rudely refused to answer any questions about the proposed mega-merger between Rogers and Shaw Communications and pleaded with the need to get back to work on the system recovery.
Even if you're not a Rogers customer, you probably have a story about being diverted from personal or business activities by the July 8 outage.
Many Canadians were denied access to the Interac™ system that processes electronic money transfers and debit card transactions since it runs only on the Rogers network. The 911 phone service to summon police and ambulances in many cities was also disrupted.
The House of Commons Industry, Science and Technology Committee held four hours of hearings into the Rogers outage on July 25. The company later submitted documents —heavily redacted—about the breakdown.
"The most disappointing aspect of the hearing is how quickly it became readily apparent that any prospect that the massive Rogers outage affecting millions of Canadians might become the much-needed wake-up call for reform has already largely passed," says participant Michael Geist, a University of Ottawa law professor.
"The MPs from all parties seemed to get the anger and frustration among Canadians, but it is pretty much business as usual for the Minister, CRTC and even Rogers. In fact, all three sounded more or less the same on the key issues as they all sought to downplay suggestions that there were broader concerns with Canada's communications system at work."
In his Law Bytes blog, Geist published a quiz called Staffieri or Scott? – Tony Staffieri is the Rogers CEO, and Ian Scott is the CRTC chair – where you're given quotes taken directly from their testimony before the committee and asked to identify who said what. I tried it and got a low score. Their answers were amazingly similar, both bland and reassuring, emphasizing that business as usual should prevail.
The CRTC has yet to launch a formal inquiry into the breakdown of essential services nationwide over a 24-to-48-hour period.

That's too bad. The public needs to know how many people and businesses were significantly affected (Rogers told the CRTC it was 10.2 million wireless customers and 2.9 wireline customers) whether the compensation paid by Rogers was appropriate and what precautionary measures could be adopted by all telecom providers to make such an event less likely to happen again.
Canada's telecom regulator—whose chairperson person Ian Scott used to work at Telus (the largest provider after Bell and Rogers)—seems to care more about nurturing infrastructure investments by the Big Three than working to bring down prices for consumers. His term ends on January 4th 2023.
Neither the CRTC nor the current government has shown much inclination to challenge the big telcos, Geist says.
"Ian Scott has reversed years of a consumer-focused Commission into one more comfortable supporting the big providers, while the government has been far more interested in sabre-rattling or shaking down Internet companies than taking on big telecom. Yet as we were reminded on Friday (July 8), the linkage to the availability of essential services—payments, health care, government services—runs through the telcos, not the Internet companies."
So, what lessons can we learn from Rogers' failure to anticipate the catastrophic collapse of its network and resolve the damage in a more timely manner?
■ Bundling your telecom services with one provider may cut costs, but it can also increase the risk of being marooned in a systemwide outage. Personal finance experts advise diversifying your income streams and investments. Diversifying your suppliers of essential services also makes sense, even if it costs a bit more.
■ There is no role for the government in determining the proper compensation for those left unplugged. Rogers was in the driver's seat after the outage, saying it would decide what was appropriate—at first, a refund of one day's service, followed by a refund of five days' service. University of Ottawa law professor Michael Geist told a Parliamentary committee this wasn't good enough: "There should be regulations that establish clear parameters for compensation, including mandated payments for downtime that are applied automatically to consumers' monthly bills."
■ Don't expect your telecom provider to be good at communicating with you in a crisis. Facing long waits of several hours on hold to speak to someone by phone is standard with the Big Three. Geist says communicating with customers about outages should not be left to the carriers alone. Twitter messages, for example, are useless in a blackout. "Outage maps, estimated times to address problems, and consistent, widely accessible communications have become the standard for other utilities such as hydro. The same should be true for communications services, with penalties levied for failure to meet the requisite standard," he told the committee.
■ Finally, the Rogers-Shaw merger "should be regarded as dead in the water," Geist argues. In a previous blog post, he asked: "Can we finally get serious about competition in communications in Canada? The Rogers-Shaw merger should have been a non-starter from the very outset. In light of Friday's events, the last thing Canada needs is an even more concentrated market."
The current hearing before the Competition Tribunal is expected to last until mid-December and aims to resolve the impasse between the Commissioner of Competition, who wants to block the deal, and Rogers and Shaw.
The Competition Bureau is one of three regulatory agencies that must approve the deal, in addition to the CRTC and Innovation, Science and Economic Development Canada. Rogers wants to close the Shaw deal by the end of the year, with a possible further extension to Jan. 31, 2023.
Is there a role for consumers in trying to bring about reform? There is little dispute that Canada's broadband and wireless pricing is among the most expensive in the world. Can we, as customers, persuade the regulator to focus on competition and affordability as part of its new mandate?
Speaking to your local MP about telecom issues can make a difference, says Andy Kaplan-Myrth, vice president of regulatory affairs at Teksavvy Solutions. As a smaller company trying to compete with the giants, Teksavvy's blog, called Choice Words, tries to educate consumers about what's wrong with the Canadian market and how to fight back.
You can also advocate for change by signing a petition aimed at MPs across Canada, such as those at the website of a telecom watchdog group, Open Media:
■ Stop Rogers from buying Shaw
■ Four letters spell the secret password to cheaper cellphone prices (MVNO)
The CRTC did listen to consumers in the past. Back in 2013, it brought in a code of conduct that prohibited wireless companies from charging fees to break a customer's contract after two years. In a lengthy consultation, consumers made angry comments about the three-year contracts offered by wireless carriers that locked them into obsolete technology. And the CRTC had a backer in the federal Competition Bureau, which supported measures to limit contract length.
The time is right for another policy change in customers' favour. I'd like to see the Rogers outage followed up with a formal investigation by the CRTC and the government. The findings, along with strong opposition to the Rogers-Shaw merger by the Competition Bureau, may doom that anti-competitive union.
In the meantime, you can find information at the CRTC site on how to polish your comparison-shopping skills and get the best deal from telecom suppliers, such as:
■ Pick the best cell phone service plan for you
■ Your consumer rights for cell phones
■ Your consumer rights for TV services
■ What you should know about Internet speeds
■ Changing your service provider
The CRTC also has a support centre with frequently asked questions and replies about telecom services, such as:
■ Can I get a paper copy of my monthly telephone bill?
■ I'm not getting the Internet speed I'm paying for
■ There's a problem with my mobile phone bill
Do you have a serious consumer complaint about a Canadian company to bring to my attention? Write to me at ellen@ellenroseman.com. I'll get back to you, even if I can't help you resolve it.
Ellen Roseman is a journalist, investing for beginners instructor at University of Toronto continuing studies and a board member at FAIR Canada, an investor advocacy group. @ellenroseman on Twitter.