Apr 2, 2022 11:00 AM
Roseman on Telecom Woes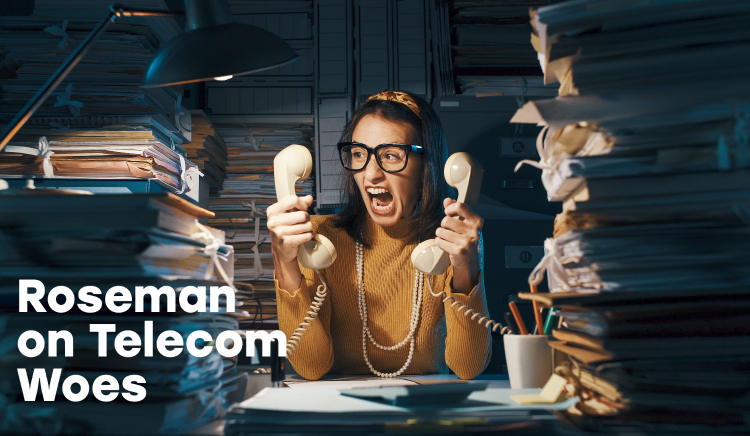 By Ellen Roseman
Telecom woes are a staple of my life – the filling in the sandwich – as a consumer advocacy journalist. I started my On Your Side blog with a post called Bell Blues, which is still current more than a decade later.
Some common themes emerged when I asked Toronto Star readers if Bell's service was improving:
Bell needs an ombudsman or a central point of contact for complaints.

It's hard to speak to a supervisor or get the names of anyone in authority.

Many customers can't communicate well with staff in overseas call centres.

Some call centre staff reps are courteous and patient, but others are arrogant, insensitive to customers' time constraints and just plain rude.
"Bell trains employees to talk about how much they care for customers, but the caring often falls apart in the face of strict rules that can't be broken and an inability to resolve longstanding problems," I said in March 2007.
Flash forward to Dec. 31, 2021, when Nancy Nickle wrote to tell me about her 2022 resolutions for business. She's a senior on a fixed income living in a retirement home in Toronto and had an ongoing problem with Bell Canada.
Her resolution for Bell: "Please mean it when you say that your mission is to act 'with customer experience at the centre of everything we do' and that your actions 'champion customer experience' (quotes from a BCE web page about its strategy). When will Bell exhibit something approaching sensitivity to customers' concerns?"
Nickle's telecom woes began when her retirement home was renovating and moving residents temporarily to other floors. At first, she was allotted a suite with an existing landline, so she asked Bell to forward calls from her own phone. Then she was moved to a suite with no landline and had to transfer her phone number.
At the end of her temporary move, she reversed the process, transferring her landline back to her original suite and ending the call forwarding. But the new status quo was distressing. Her bill increased from $36.79 a month in early 2021 to $51.89.
"I had no alternative to initiating these changes. I had to move and I had to maintain a secure communications link with my husband's nursing home since he was approaching the end of his life (he has now died)," she wrote to John Watson, head of Bell's customer experience department, last August.
"When I spoke to your management team, they informed me that the monthly residence line amount was previously grandfathered. And since I had initiated a change, that status was cancelled and I would be charged at current rates. Apparently, Bell policy was firm and no further recourse was available to me."
She tried escalating her case to the customer experience department, but all she received was a small, time-limited reduction. Bell insisted that it was impossible to reinstate the previous fee schedule.
"A little compassion would have been appreciated, especially since Bell could return me to my previous status simply through basic bookkeeping measures," she told me. "I turned down the short-term offer – especially mortifying since my late husband and I were also BCE shareholders. We supported the company for years, but did not receive meaningful support in return."
Nickle had already given up on Bell, but I felt it was time to flex my media muscles. I used to send customer complaints to Bell and Rogers non-stop in my Toronto Star column that ran for 20 years and I'd get results. Now I use Twitter to highlight wrongdoing.
The outcome was beyond my expectations. Bell's media contact Jessica Benzinger got back to me at 3.30 p.m., Friday, Dec. 31 (New Year's Eve), less than three hours after my contact. She forwarded Nickle's email to the customer experience team and said someone would be in touch shortly.
"Bell Canada was in touch with me starting that same day, followed by several other occasions, either by telephone or email," Nickle reported on Jan. 7. "You have done something for me that I could not do for myself. Bell Canada has made me an offer that seems suitable and I have accepted it."
I wish big companies didn't treat customers so cavalierly when they complain about being mistreated. But I'm happy to lend my name and clout to anyone who can't reach the corporate decision makers. It feels great to turn a resounding No into a Yes.
Donna Sawchuk asked for my help twice with Rogers. When her condo building signed up for Rogers bulk TV and phone services in 2019, she was hooked up with two new TV boxes and told to send back her old boxes with a waybill to get credit on her account.
She received a tracking number from UPS, but the promised cardboard containers never showed up. And when she called Rogers, "I spoke at length to a person who kept me on the line and seemed to be scolding me. I kept being asked about Rogers Ignite (a new service) rather than dealing with my issue. Help!"
Her shipping issue was resolved the day after I contacted Rogers. But she ran into another roadblock last November when trying to shop for a low-cost phone plan.
"I've been trying to sign on to a basic cell phone plan to no avail," she said. "I've spoken to three people and have been disconnected three times. It's ironic that I can't connect to one of the biggest communication giants. Is there someone higher up the scale that would be a better facilitator?"
As with Bell, things changed quickly when I reached out to Rogers' media contact on her behalf. Sawchuk is retired and subscribes to many of the company's services (TV, Internet, home phone and now wireless), so she's seen as a loyal customer worth keeping.
What she wanted: A prepaid cell phone package with unlimited talk and text, plus 1 GB of data, for $25 a month. What she got: A $25 a month plan with some data and a fixed price until 2023.
During the pandemic, however, some telecom prices (such as Internet plans) are going up and some customers are finding it harder to reach the telecom giants to negotiate lower rates.
Risa Shuman, a retired TVO producer, would get a discount from Rogers each year when she called to talk about her 30 years as a customer and her role as caretaker for a mentally disabled sister.
"I'm from that generation where customer service meant something. It's ingrained in me that I have value as a customer and I have a right to speak on my own behalf. The difficulty is that you're talking to 'children' and they don't have that mindset at all. You get a sense you're humiliating yourself trying to negotiate something that you think is very fair," she says.
"The supervisors used to have some discretion and they could override certain things. Now there's no retention department. You're not dealing with anybody whose main focus is to keep you. It doesn't matter who you are and how long you've been with them. You get the same deal as anybody."
After 13 years of calling Rogers and getting discounts, Shuman gave up last year and hired a professional telecom negotiator. Mohammed Halabi, director and founder of MyBillsAreHigh.com, bases his fees for business and personal accounts on the savings he gets for customers – generally five or six months of savings.
"These companies have made it more difficult getting to retention, getting to management. It's a game of being patient and at the same time, customers should look to other providers. No one is recognizing loyalty any more," says Halabi, who has 20 years of experience as a telecom dealer and negotiator.
"So, where are the deals? There are always new client acquisition offers. If you're a Rogers customer and switch to Bell, they'll give you a special discount or a credit. Customers shouldn't hesitate to switch back and forth every couple of years. Providers hate it and I absolutely encourage it. I'm advising customers to do it because provider loyalty is not there any more, other than for a company like Cogeco" (an independent Montreal-based supplier, serving customers in Ontario and Quebec).
How do you compare providers and find rival firms that make it profitable for you to switch? Canada's telecom and broadcast regulator, the CRTC, offers great consumer information at its website, such as a section called Communication Service Providers in Canada, which helps you look for service providers near you.
You can also find advice on how to change companies. What if, for example, you want to keep your current phone number when you switch? Just tell your new provider to keep your phone number and it will take care of the transfer for you. But be sure to make this request before your original contract has been cancelled.
The CRTC also gives links to non-Government of Canada websites that compare service providers' prices, plans and coverage areas. And it gives tips on picking the best cellphone service plan for you here.
Finally, if you have a complaint with your telecom supplier and get no satisfaction or redress, you can turn to the CCTS. This independent industry-funded agency, which was set up by the CRTC in 2007 to resolve complaints from consumers and small business retail telecom customers, puts out annual and mid-year reports that name the companies getting the most complaints.
Bottom line: Do some online research before signing up for lower rates at a new telecom firm. And always check a potential supplier's complaint status at the CCTS to head off potential problems.