Jun 19, 2018 2:52 PM
Interview with Bridget Casey from Money After Graduation on debt, saving and investing.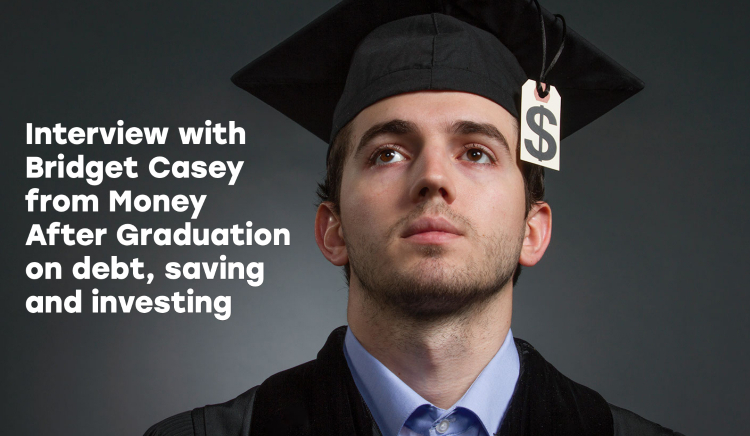 Links & Resources
To learn more about Bridget Casey click here.
Get a free issue of Canadian MoneySaver Magazine and a coupon for 20% off here.

Getting to Know Bridget Casey: Questions Covered
0:52 Tell us how you got started and what your finances were like when you graduated university.
1:38 So you found blogging about your personal finances was motivating you to clean them up?
3:42 Tell us a little about what you've learned about personal finance as a new mother.
5:51 How are you managing to balance work and life right now especially with the high cost of daycare?
6:29 Tell us about what www.moneysaftergraduation.com is.
7:45 Tell us a little about your course, The Six-Figure Stock Portfolio.
9:00 How does your course, The Six-Figure Stock Porfolio, compare to the Canadian Securities Course?
10:33 What is your personal approach to investing?
11:01 What is the typical age of the people who take your course?
11:16 Are millenials investing inside an RRSP or TFSA?
11:45 What approach do you take regarding debt and investing?
13:45 What do you think about the general financial health of millennials in Canada?
14:58 Earlier, you talked about the debt snowball vs debt avalanche. Now I see you talking about the debt snowflake. Maybe you could tell us a little about the different approaches.
17:15 You're on YouTube a lot. Do you do all the work yourself or do you have help with it?
19:45 Do you spend a lot of time editing videos?
20:02 What are your three best personal finance tips that you try to live by as well?
20:53 What is some practical advice to negotiating a salary?
23:11 As a self-employed individual, do you still use those negotiating skills in your own personal situation?
24:00 I heard you're writing a book. How is that going?
Ellen's Tips and Tricks:
Tips to improving your success when negotiating with big companies on their services.
New Subscriber Discount:
Not a subscriber yet? Get a free issue of Canadian MoneySaver Magazine and a coupon for 20% off your subscription here.