May 24, 2023 9:47 AM
How To Find The Best Scholarships For You In Canada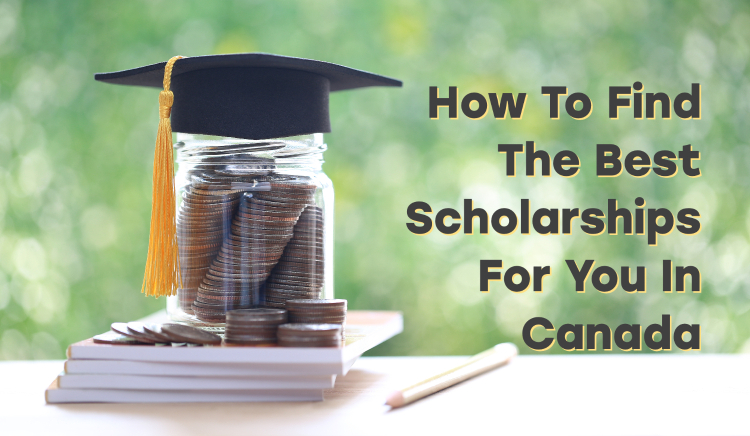 On average, Canadian graduates with a bachelor's degree owe $28,000 in student debt. Although the government provides different student loan forgiveness programs, they aren't readily available or enough to help graduates break free from steep loan burdens.
One of the best ways to avoid having too much student debt after graduation is to apply for post-secondary scholarships. In this article, we will go through various methods for finding scholarships in Canada and provide actionable tips for achieving success with your applications.
Understand Scholarship Deadlines
Imagine working for 4 hours on an essay, but when you go to hand it in, the submission portal has closed. Unfortunately, deadlines can sneak up on you as a scholarship applicant, which is a reality for many applicants.
Before you even start searching for scholarships to apply for, it's essential to understand the significance of program deadlines. Most scholarships in Canada have a limited application period. I often suggest checking a scholarship's deadline before verifying the program's requirements.
This strategy can help you avoid wasting time on scholarships that no longer accept applications. Moreover, it lets you prioritize applying for programs with the earliest deadlines and those that will get you results the quickest.
Look At Your School's Scholarship Offerings
One of the best starting points when seeking scholarships is your current or preferred school. Most post-secondary institutions in Canada offer scholarships for their students based on academic achievement, financial needs, or program of study.
An advantage of school-offered scholarship programs is lower competition. Compared to nationally or provincially offered scholarships, those provided within your school will typically have fewer applicants, which means you'll have higher chances of being selected as a recipient.
The first step in applying for this type of scholarship is to check your school's website or speak with your guidance counsellor. With either option, you'll have the chance to determine the scholarships that apply to your current situation. Once you confirm your eligibility for a scholarship program, prepare the requirements and submit your papers before the deadline.
Check Online For Company Scholarship Offerings
Many corporations, both large and small, offer external scholarships to selected candidates each year as part of Corporate Social Responsibility (CSR) programs. To find out which companies have scholarships you are eligible for, regularly check online to get the latest updates.
There are multiple ways to find corporate scholarship programs online. One of them is to use scholarship search engines, which list scholarship programs from organizations, schools, and corporations alike.
Another method is to look for companies directly related to the program of study you've chosen to pursue. If you can't find information about the scholarship programs of a particular corporation you're interested in, consider contacting them directly by email or phone. Some companies don't publicize their scholarships very much, despite offering them, so you need to be willing to put in that leg work to find the best options.
Utilize Your Network
School and external scholarship applications aren't your only options when hunting scholarship programs. It can help to take advantage of your personal and professional network to see whether you're eligible for affiliate scholarships.
Affiliated scholarship programs are exclusive to students with connections to certain companies or organizations. To find out about these opportunities, reach out to your family, friends, co-workers and organization members and ask whether they know of any affiliated scholarship opportunities for which you might be eligible.
Moreover, if you have the opportunity to do so, talk to some of the successful scholar alums from your school. They might still know some affiliate scholarship programs they were part of and that you may also be eligible for. Connecting with these alums through your school or via Linkedin can be an excellent way to find out more about scholarships and your school in general.
Tips To Win The Best Scholarships
Despite knowing the best methods to find scholarship opportunities, the journey to becoming a scholar may not be easy. Winning scholarships is similar to finding a suitable job; it takes time and effort, and your competition can be steep.
To help you excel in your scholarship applications, here are some tips I can offer as someone who obtained several scholarships myself.

● Apply Early: Cramming is no stranger to many students. However, if you want to win the best scholarships possible, make it a habit to apply early. Many scholarships have time-consuming requirements such as essays, in-person interviews, and tests. If you apply at the last minute, there is a chance you could be rejected by default because there's not enough time for you to finish all the prerequisites.
● Make Applying A Routine: If you're serious about winning scholarships, make sending applications a routine, not a one-time thing. Do not focus solely on your dream programs. The more applications you send, the higher your chances of getting financial aid for your studies.
Set aside a specific amount of time each week to prepare your scholarship applications and make this allocated time non-negotiable.
● Reach Out To Your School Counselor: School counsellors tend to be the most knowledgeable about financial aid for students. Reach out to them as early as possible to have a head start in the application process. School counsellors often recommend programs directly, based on your school records and current program. In other cases, they'll introduce you to a financial aid expert who can walk you through the scholarship opportunities that are best suited for you.
● Practice Your Essays: Many scholarship applications require a self-written essay about your personal life, achievements, or goals. As early and as much as possible, hone your writing skills to have better chances at winning the hearts of the scholarship committee. Online courses are available for essay writing if you want to take formal lessons. There are also beneficial tools like Grammarly to help you know you're not making any glaring errors in your applications. Alternatively, you can get assistance from your parents or teachers that are willing to review your essays.
● Consider Small Scholarships: Most students aim for scholarships that cover the entirety of their tuition fee. While there's nothing wrong with seeking the big fish, this shouldn't prevent you from considering smaller scholarship awards offered by your school, community, or companies. The best part about applying for smaller scholarship programs is their easier requirements and less competitive nature. This means you won't need to prepare for your application extensively, and you have more chances of being chosen as the scholarship recipient.
● Tailor Your Applications: Avoid sending generic scholarship applications and essays. For every program you're applying for, know the sponsor's priorities and values, and tailor your submissions to present yourself in a way that fits their description of a worthy student. This strategy helps you stand out and give you more chances of being selected for the scholarship program.
● Accept Rejections: When applying for scholarships, learn to accept the rejections that come your way. Not winning one scholarship shouldn't stop you from applying to other programs that can potentially win you not just one but several offers.
Treat each rejection as a stepping stone to further improve your application. If you don't give up sending applications you've spent your heart, mind, and time preparing for, you'll eventually land a scholarship that fits you.
Conclusion
Finding the best scholarships in Canada can feel like a challenging task. However, when equipped with the right methods and tips, they're nothing students like you can't achieve. Open your doors to scholarship programs from your school and the awards offered by private institutions and your connections. Remember, as long as you don't compromise the quality of your applications, the more you apply, the higher your chances are of getting your much-awaited financial aid. Good luck with the next semester!
Dr. Enoch Omololu, MSc (Econ), is the Founder of Savvy New Canadians, a popular online financial resource. He is both a personal finance expert and a trained veterinarian and has a master's degree in Finance and Investment Management from the University of Aberdeen Business School. Through the years, over 19 million readers have learned about personal finance from his insights on Savvy New Canadians. Savvy New Canadians recently launched its bi-annual scholarship, with the purpose of increasing and improving financial literacy and awareness amongst students in Canada.