You have 2 free articles remaining.
Subscribe
Jan 30, 2019
What Women Want: Stories & Social vs. Charts & Graphs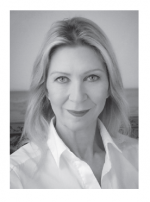 After 10 years of doing global research on women and finance, I want to share my five most important findings over the last decade in a series of articles; one topic per article. Today's piece will be about communication preferences: How women talk about, learn about, and share ideas around investing and money.
Do women talk about investing? Yes!
But first, have you ever asked a woman about her investing prowess? Often, (and regardless of her level of education and/or experience dealing with financial matters), she will play down her accomplishments. Fortunately, thanks to global movements such as Times Up, many women are starting to see the light and they are now beginning to speak up about their successes – whether it be about investing or getting paid what they are worth.
Actress Natalie Portman explained recently in Variety: "And then we started feeling that when we talked together, there was this outrageous coincidence of experience that so many of us had been regularly paid less than male co-stars … It's been sort of this domino effect that every woman that has had the courage to speak up has inspired the next woman. And then suddenly, it's a regular thing that it's okay now to say that you weren't paid fairly, even if you were paid a lot."
How do women prefer to talk about, and learn about, investing?
Charts and graphs feel dry and dull to most women: in my interviews, nearly 100% of women say they prefer stories about real people rather than death by PowerPoint. (And a fascinating secret is that many men feel the same way!)
When it comes to communicating about investing, with women it is all about relationships and stories. Women are more inclined to share real-life issues and situations with their close friends and the next generation. Family life is central. Women talk about money matters in more of a grounded way, with a view to how a financial situation or an investment is likely to affect their family and their lifestyle.
Most women haven't traditionally spent much time talking about their stock picks. Again, this is probably a cultural thing and let's be honest – corporate news releases and annual reports make for a dreary read. Women prefer to learn from others and their experiences but up until recently the investment industry hasn't done a good job of facilitating this type of discussion. Here are a few insights from my interviews:
• A public relations expert explained: "I want my investment firm to try to solve my problems. Help me solve my life puzzle. What are my financial and non-financial issues? Connect me with other women so we can share thoughts and experiences on real-life decisions we have made."
• From a publisher: "I would like to talk with other women about how they invest. Especially female entrepreneurs. I don't really look at myself as an investor and I should. What about the stories behind all the companies and the stock price movements? Ideas come from interaction."
Fortunately, times are a changing. Women are today's number one target market for the financial services industry. Financial firms around the world are scrambling to produce stories and narratives about investment products and services in a language that makes sense to women.
How can financial institutions appeal to female investors?
As part of my research work last year I gathered ideas from hundreds of high-net-worth women as to what they would like to see from their financial institutions. Here are a few soundbites:
• Create some emotional value beyond rate of return. Show women investment ideas that truly resonate with them. What are the industries and companies that will interest her personally?
• Offer a detailed screening system for companies, especially around social values like the environment, gender and human rights. Female investors want to clearly understand the level of pollution, corruption, child labour, gender equality, etc. for all their investments.
• Get women to care about investing by linking it to doing something good for her family. Find out what matters to the families of female investors and offer specific investment alternatives.
Social media has changed the world for female investors
From Pew Research Center's Social Media Use 2018 report: Women continue to use Facebook at higher rates than men. 74% of female internet users are on Facebook, while only 62% of male internet users are part of the network.
Social media has massively increased the accessibility of financial information and, best of all, in a way that women love: via mobile where they can be multitasking and snacking on bite-sized pieces of information.
Shira Abel is the CEO of Hunter and Bard in San Francisco:
"Women are extremely savvy, both about money and about technology, and as technology advances, it is becoming increasingly easy to do your own investing. For example, I downloaded Robinhood for my stock buying – it offers no management fees. My bank has an app which makes it incredibly simple to keep an eye on my bank balance daily. Billguard makes sure that I don't have any gray fees. I have 7 financial apps on my phone! Mobile has changed my life completely when it comes to money."
All over the world, we now have social trading platforms and communities where women can communicate openly, benefit from other people's knowledge, share information, and get inspired.
Jessica Robinson is the Founder and Managing Director of Moxie Future based in Dubai. Here is a sneak preview of her quote that will be in my forthcoming research report for release on International Women's Day – March 8, 2019.
"I've been working in the financial services area of sustainable and responsible investing (SRI) for the last decade or so. I have always thought that the smartest people in the room were women! Women seem to have a level of engagement and motivation that is about much more than just financial return. Whenever I speak at conferences or events, professional women come up to me afterwards to tell me that what I am saying is important to them, especially when it comes to their own financial decisions. So, I followed my hunch and did a lot of research.
It was an easy decision to set up Moxie Future. I want it to be an inspirational and educational platform – a way to distribute much-needed content on the topic of women and investing. My vision is to build out the education platform first via content, online courses and events.
I know that women prefer to make decisions by conferring with one another, so peer-to-peer interaction is important. Second, I want to take investment products to women…make it easy for them. I want to help them get interested in investing; particularly investing in companies that help build a better future.".

On the world of investing, women are now starting to get what they want.
Thanks to social media, younger women are growing up with investing. They know that investing is important, and they are encouraging each other to share their successes. These young investors are an inspiration to women (and men) of all ages. And they are teaching the financial industry the way forward.
Barbara Stewart, CFA is one of the world's leading researchers on women and finance. Barbara is an advocate for women, for diversity, and for financial education, both in public and as a consultant using her proprietary research skills to help global financial institutions seeking to transform themselves. Barbara is a frequent interview guest on TV, radio and print, both financial and general interest, as well as a former columnist both in print and online for Postmedia newspapers in Canada. Barbara is a contributor to the CFA Institute's Enterprising Investor website. For more information about Barbara's research, please see www.barbarastewart.ca.