You have 4 free articles remaining.
Subscribe
Mar 5, 2018
Biotechnology
The Trend
Biotechnology has been around for thousands of years and has its beginnings in the domestication and selective breeding of plants and animals by humans. Of course, now biotech also permeates many other fields of endeavour as research has expanded its horizons.
If you've ever wondered about how far-reaching biotech's impact could be, consider the following:
We'll continue to heal human bodies through biotechnology, but we'll also increasingly feed, clothe and house the world through bioengineered systems. Ultimately, there's no reason why live animals should be used in any part of our food or goods chain, and we're working to make that a reality.
-Ryan Bethencourt, American Scientist
This represents one of many perspectives on the potential implications of biotechnology. More generally, biotechnology can be defined as:
"…any technological application that uses biological systems, living organisms, or derivatives thereof, to make or modify products or processes for specific use.1
Note: The field has many ethical implications2 which are worth considering but are beyond the scope of this article.
Some Facts
Biotechnology is a disruptive field of endeavour. Like other fast-moving technological advances, biotech has begun making an impact in society and likely will make much more in the future. As the application of biotechnology has become more widespread, it has grown in interest to investors.
The human genome project is perhaps the most widely recognized activity in the biotech space. Its purpose is to unlock the secrets of human DNA and is the world's largest collaborative biological project.3 Understanding the human genome has many implications for disease eradication and genetic engineering.
But biotechnology has made many more contributions than that. Some of the major discoveries in the biotech field with far-reaching impact include: insecticides, vaccines (e.g., smallpox), antibiotics (e.g., penicillin), high-yield food hybrids, pest and virus-resistant crops, growth hormones (human and animal), environmental protection (e.g., oil-eating micro-organisms), disease treatment (e.g., diabetes, cancers, multiple sclerosis), animal cloning, stem-cell research, textiles, detergents, chemicals and energy production (e.g., bioethanol).4
Investment in the biotech field has been influenced greatly by a decision of the Supreme Court of the United States in the 1980s that allows companies to patent genetically-modified life forms. This controversial decision has helped create a market for investment due to the benefits patents confer on companies that hold them.
The global biotechnology market (broadly defined, including healthcare companies that conduct biotech activities) can be characterized as having $328B (USD) in annual revenues, 5.3% annual growth, 1.0M employees and nearly 9,000 businesses.5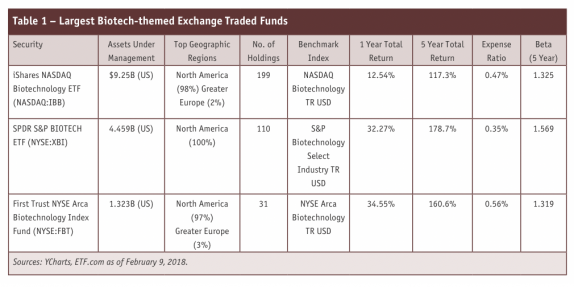 Risks
Biotechnology requires large amounts of research and development and has uncertain outcomes. Revenues do not follow unless the R&D is both successful and resulting products are commercially viable. This means there is a considerable risk for investors. Often companies form joint ventures or other partnerships to share the burden of these costs.
The business of biotechnology is highly competitive and is characterized by several smaller R&D firms combined with a small number of large biotech behemoths. There are reportedly over 1,000 biotech firms operating in North America alone, but the top one percent make up the majority of revenues. For food and drug approvals in the United States, it can take anywhere from four to seven years to obtain regulatory approvals, with perhaps a five to ten percent success rate.6
Biotech investing is not for the faint of heart but may have a specialized role in a well-diversified portfolio.
Ideas For Further Research
For most investors interested in biotechnology, there are two main choices: buy shares in single companies with above average prospects (e.g., with more than one product in the pipeline and plenty of cash or a very promising product about to hit the market) or buy a specialized fund with holdings in numerous companies (e.g., a biotech Exchange Traded Fund(ETF)). The former approach can lead to considerable gains if successful and the latter can help to offset some of the risks with single-company picks.
Both investment approaches can provide significant, or even stellar, total returns but predominantly in the form of capital gains. Volatility, as might be expected, tends to be considerably lower in ETFs and large capitalization companies. Overall volatility in the segment, as measured by five-year beta, is fairly high, especially for the smaller Canadian companies.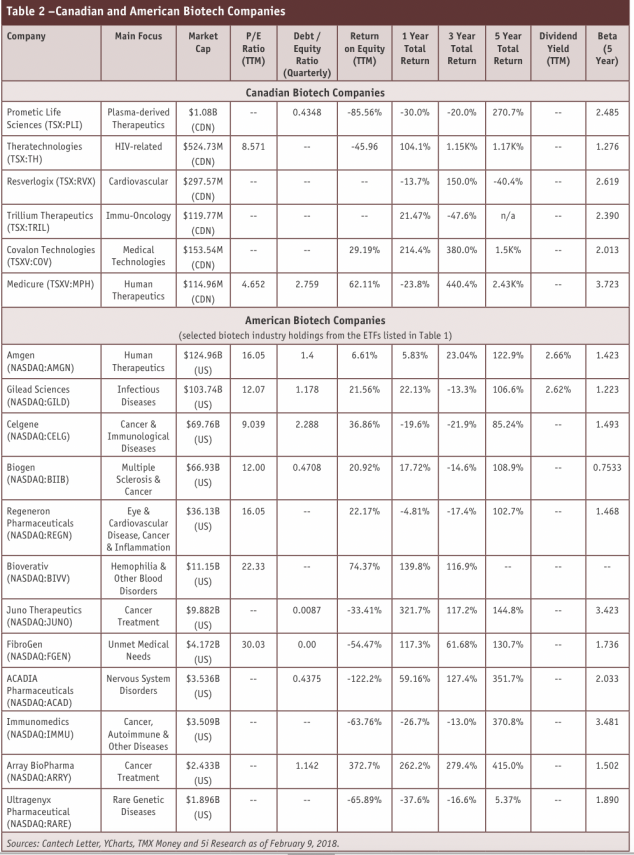 Table 1 profiles the three largest biotechnology funds traded in North America, all in U.S. funds on U.S. exchanges.7 iShares NASDAQ Biotechnology ETF (IBB) tends to be weighted towards large caps, SPDR S&P BIOTECH ETF (XBI) towards small and micro caps, and First Trust NYSE Arca Biotechnology Index Fund (FBT) towards medium caps. Note these ETFs are overwhelmingly U.S.-focused.
Table 2 presents a small sampling of Canadian and American biotechnology companies (as classified by TMX Money). There are relatively few in Canada, and many are quite small and have limited earnings (Table 2 excludes any under $100M in market cap). U.S. biotech firms are plentiful, and the largest exceed $100B (USD) in market capitalization.
How To Invest In The Biotech Trend
Given how many competing companies are involved in the biotech industry, and the risks involved in bringing products to market, there is a strong argument for investing in an ETF. ETFs spread risk across numerous companies, market capitalizations and areas of focus and eliminate the need to try to pick the winners. Biotech ETFs are largely US-centric. Investors must also consider the fees when buying an ETF.
Alternatively, if one has a higher risk tolerance and preference for a specific company and its prospects, a direct ownership stake allows for a focused investment based on company fundamentals and potential. Fees in the form of commissions are also generally low.
Concluding Remarks
Biotechnology is a still-burgeoning field that offers opportunities for investors (and indeed society at large). As a specialized industry segment, it looks likely there will be continued long-term growth, with the potential for high returns accompanied by high risk. Investors should consider how much volatility they can handle and determine security type and asset allocations accordingly.
Michael Patenaude, BA, MA, is an avid personal finance enthusiast living in Ottawa. He publishes his blog and portfolio along with content from the Ottawa Share Club at money4retirement.ca. He is a co-founder of the McMurtryInvestmentReport.ca. Email: mrpatenaude@gmail.com. This article is not intended as investment advice nor is it a solicitation to hold or trade securities. Michael owns shares in IBB.