You have 4 free articles remaining.
Subscribe
Jan 2, 2017
Lease Termination Tips For Commercial Tenants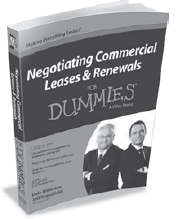 For any number of reasons, you may be faced with terminating your own commercial lease. This process can be accomplished and it doesn't have to be a nightmare for commercial tenants although you could face numerous roadblocks.
Understand that, as business owners themselves, commercial landlords need good rent-paying tenants to fill their buildings. Empty commercial units do not generate any income for a landlord. Therefore, negotiating that initial lease should come quite easily. Should you need to terminate your lease, however, things may not be quite as smooth.
As The Lease Coach, we have been coaching and consulting with independent and franchise tenants since 1993. Over the years, tenants have frequently asked us how to "break a lease". Should the tenant continue to lose money? No. You have numerous options available that may or may not help you to terminate – perhaps with limited personal loss and damage. Here are our professional recommendations, in no particular order.
Understand the language. In reading this so far, you will have likely noticed we have spoken of "terminating a lease" rather than "breaking a lease". In the real estate industry, the term "terminating a lease" is preferred over "breaking a lease". In the latter case, this suggests that you, the commercial tenant, are doing something which is both legally and ethically wrong. A tenant's words, in fact, can set the tone for success or failure. We think of a quote from motivational speaker, Zig Ziglar who once said, "You can call your wife a kitten or you can call your wife a cat … you'll get a different response."
Talk to your landlord. The Lease Coach has been very successful in persuading the commercial landlord to take back the commercial space when the present tenant is struggling. The landlord can then re-lease the space. It is, in fact, to the landlord's advantage to precipitate a vacancy by working in advance to find a replacement tenant. This allows the landlord to maintain cash flow. Instead of a conspicuous "Going Out of Business Sale" sign in a tenant's window or a "For Lease" notice on the outside of the property, the public will see signage welcoming a new tenant into the property. A "Coming Soon!" or a "Grand Opening" sign is far more attractive.
Find a replacement tenant. Commercial landlords are more likely to be cooperative terminating your lease if a replacement tenant can be found for your space. The existing tenant will surrender his/her Lease Agreement and location back to the landlord. Commercial tenants signing a Surrender Agreement can vacate the premises immediately or occupy the space until a new tenant is found. A new Formal Lease is drafted for the new tenant. The new tenant signs his/her new Lease Agreement and begins paying the rent.
Assign your Lease Agreement. Essentially, this means finding another prospective tenant to agree to take over your commercial space and current lease terms. If the person taking an assignment of your lease agreement has also purchased your business this is more acceptable to the landlord than if the Permitted Use is completely changing to a different industry. In this case, a secondary or replacement Formal Lease is not required; usually, a two or three-page Lease Assignment, prepared by the landlord, will be all the documentation required to get the job done.
Consider other vacant space within the same rental property. Is there something more appropriate for your needs? Are you faced with excessive space? Can you downsize your operation? With commercial rents being charged by the square foot, commercial tenants leasing less space typically will find the rent more affordable. A commercial landlord may be willing to free you from one leasing obligation should you remain in his/her property. Downsizing is a common solution for a business owner struggling with paying too much rent. The problem, frequently, is that the business owner is not paying too much in rent rather he/she has leased too much square footage.
Overall, commercial tenants should carefully consider these various options as well as their own situations prior to attempting to terminate a lease. Taking initial precautions prior to signing a lease are often best. If you have never gone through this before, it is reasonable to expect that you will need some help.
For a copy of our free CD, Leasing Do's & Don'ts for Commercial Tenants, email DaleWillerton@TheLeaseCoach.com
Dale Willerton and Jeff Grandfield are Commercial Lease Consultants who work exclusively for tenants. You can contact them at 1-800-738-9202, DaleWillerton@TheLeaseCoach.com or visit www.TheLeaseCoach.com.