You have 4 free articles remaining.
Subscribe
Mar 1, 2016
Book Review by John Prescott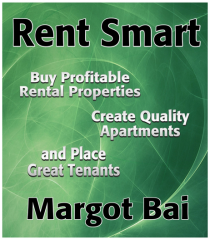 Rent Smart: Buy Profitable Rental Properties, Create Quality Apartments
and Place Great Tenants.
Margot Bai. www.margotbai.com.
2015. Kobo EPUB from the author's website. C$10.00
Margot Bai is a successful real estate investor with multiple rental properties in the Newmarket area on the edge of a constantly expanding Toronto.
Rent Smart is a compilation of six articles she wrote in 2012-2014 for Canadian Moneysaver. Margot is clearly highly organized financially, determined and focused, and this handbook for someone considering investing in real estate shows these characteristics. It also shows a lot of the other savvy needed, which includes the ability to assess and work with tenants, and some basic (or advanced) DIY skills.
It covers the bases of why real estate investing may be more reliable and rewarding than the hazards of the stock market, and provides a disciplined, analytical and thoughtful approach that will be very useful to prospective investors.
She discusses why investing in housing is a good investment, what the risks are, how to identify the best rental properties, the critical financial aspects, the scary bits of how to actually get started, property maintenance issues, cosmetic improvements, finding great tenants, leasing agreements, and turning over apartments.
This is a great practical "how to" book that emphasizes quality ("Would I want to live there") and, fairness, with the idea that these will produce the virtuous circle that will overcome every landlord's secret nightmares. If someone can manage their own property and finance it successfully, then they have likely the ability to manage rental properties successfully, but this book will be an indispensable help.

John Prescott coordinates the Guelph Share Club.