How To Turn Your Big Idea Into Reality: Five Practical Steps by Barbara Stewart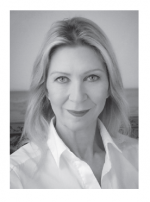 Have you ever regretted not acting on a hunch about a business idea? You spot an opportunity, you feel sure that it would be a huge success, but you aren't sure where to start. Then you forget all about it and get on with the business of life. Well next time that happens to you…here are five practical steps to help you seize the day!
Step One: Clearly define your opportunity
Is there demand for a product or service that is not yet available? Is there a current trend or gap that needs to be filled in the marketplace? Or do you just see a plain old opportunity to make money?
Funda Akpinor's daughter Lal was the inspiration behind her idea to develop an app that trains parents in early childhood development. When she was turning two Lal wasn't speaking very much so Akpinor took her to see the top child psychologist in Turkey. When she saw the positive impact of the Montessori approach on Lal as well as other kids in the toddler classroom, she wanted to share these tools with more people.
Estelle Adam is an entrepreneur based in Paris who had noticed over the years that many wealthy people owned a lot of real estate. She came up with the idea to replicate an already proven idea "to own a cash flow machine." She explains: "One day I thought to myself 'How can I have immediate cash flow?' and I decided to do some research and figure out how to increase my income without spending any money."
Janice Diner founded FinTech firm Horizn in Toronto seven years ago based on her idea that "When it comes to digital adoption in the financial industry, everyone needs to learn, and learning needs to be widely distributed."

Step Two: Do meaningful research to understand your market
What are the existing patterns of consumer behaviour? How are the economic conditions? What are the cultural nuances?
For working women in Istanbul, the biggest problem is balancing work and family life and most nannies aren't trained in childhood development. Akpinor did extensive research: "After two masters' degrees in Economics and Marketing, I got my second university degree in Child Development and I went to the U.S. to be trained in Montessori."
In Paris, Adam studied the real estate market and came across YouTube videos by successful French real estate investors such as Olivier Seban and Jean Baudin. "I got in touch with them personally and paid them to explain to me how they did it. They then gave me access to their network. Now I'm reproducing what they are doing."
Diner: "We saw a universal financial services problem that needed to be solved."
Step Three: Outline your proposed solution
Work with proven models and apply the same successful concepts to your own idea. Or, challenge old ways of doing business and create new ways of doing business using digitization or other creative solutions. Akpinor: "The app provides families with information and videos on the right activities for their child, the right
toys to buy, and at all different ages to support different areas of development."
Adam: "Four factors have led to my instant method of producing cash flow:
1. Access To Capital: I borrowed money from the bank to buy a house.
2. Subdivide Into Units: I bought the house and divided it into five apartments.
3. Furnished: I rent them as furnished apartments because this is more lucrative.
4. Money Velocity: I rent each apartment as a short term rental."
Step Four: Find a way to finance your big idea
Not surprisingly, this can be the toughest step. Sophia Matveeva, the CEO & Co-Founder of fashion tech platform Enty, spoke for many women in her recent Financial Times article Female founders need funding, not another voluntary code: "I have an MBA from the University of Chicago Booth School of Business, a good undergraduate degree, speak three languages and have worked in private equity. I don't need more training. I need more funding."
In my Rich Thinking® research paper How Smart Women Are Investing Their Resources In 2013, my most fascinating discovery was that at least half of the women I interviewed told me they were spending some portion of their potential retirement funds on what matters to them now, rather than investing in traditional longer-term asset classes. This "lack of funding" phenomenon could be part of the reason. In fact, 25% of women interviewed said they were investing a sizeable portion of their entire wealth in a business that was directly related to their personal cause.
While the self-funding option will undoubtedly play havoc with a traditional retirement plan, at least in the short term, many women with big ideas are passionate enough to invest in themselves.
Akpinor: "I have invested a significant portion of what I have saved throughout my career on this idea. My husband kept asking me 'Are you sure you want to do this?' Yes, it is expensive to create content, film videos, rent a studio, hire people, and then there are marketing costs and IT storage costs. But I am sure that I want to do this and now I feel that I have a social responsibility to do this and to do it right. This will be a game-changer in Turkey!"
Adam: "I invested my own money in my idea. I paid successful real estate investors to explain their strategy and I also hired property managers to manage the property for me so that I have time to work on new projects."
Diner: "I think it is important for women to know that there are many ways to raise money to fund a business. My company is notoriously bootstrapped—meaning that there has never been any third-party equity involved. The primary shareholders are the owners. All my capital is in my company. I didn't go into debt. I earned revenue from clients from day 1, and I've always been profitable."
Step Five: Execute!
It's time to take action. An idea is just an idea until it gets executed.
Akpinor: "We introduced the app to the market last January and we now have 5,000 users. And we haven't even started advertising yet!"
Adam: "Now, just two hours outside of Paris, I have my own personal real estate investment Comme à la Maison Saint Quentin that generates positive cash flow every month!"
Diner: "I think of it as a chain of events; you go from idea to reality to market fit to client fit. Three and a half years ago we went live with one of the worlds' largest banks and it caught on like wildfire with banks around the world. We have helped launch products in 50 countries and 15 languages. My clients get on stage with me to tell the story—it doesn't get more credible than that!"
Need further inspiration? 55 women from around the world share their real-life stories in my 2019 research paper Smart Women – Big Ideas (http://barbarastewart.ca/RT_White-Paper2019.pdf).

Barbara Stewart, CFA is one of the world's leading researchers on women and finance, focusing on real life financial behaviours and providing global insights into how smart women think and communicate. Barbara is an advocate for women, for diversity, and for financial education. In addition to her Rich Thinking® research, Barbara uses her proprietary research skills to work as an Executive Interviewer on a project basis for global financial institutions seeking to gain a deeper understanding of their key stakeholders, both women and men. Barbara is a frequent interview guest on TV, radio and print, both financial and general interest. She is a contributor to the CFA Institute's Enterprising Investor website. For more information about Barbara's research, please see www.barbarastewart.ca.
| | | |
| --- | --- | --- |
| | © 2020 Canadian MoneySaver | |