Mar 16, 2023 9:27 AM
Women And Work: Five Approaches To Making Money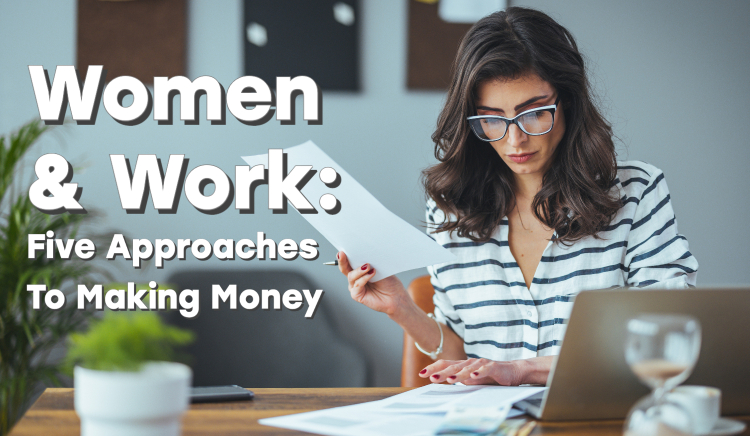 How do you make money? In 2021, I asked 53 accomplished women around the world this question.
Reading articles about the future of work, you get the impression that things have changed enormously in recent years and that many or a majority of women are now making their money through terms that didn't even exist 20 years ago: "side hustle", "Instagram influencer", "gig economy" and so on.
But my shocking finding is that 85% of the women I interviewed make money in ways that aren't any different from how women made money in 2000 or even back in 1980: a third have jobs that pay salaries and bonuses, perhaps with a bit of a twist; about a quarter make money off of direct drive sales (a business model I remember well from selling photocopiers for Xerox in 1986!) and another quarter provide some sort of fee-for-service. A mere 15% have the "many sources" model for money-making… much lower than I would have expected.
My research showed that there were five clear groupings of how women today make their money:
1. Traditional: Salary Plus Bonus

2. Traditional With a Twist

3. Fee-for-Service

4. Direct Drive

5. Many Sources
I'll share stories for each of the five categories:
Traditional: Salary Plus Bonus
Cristina Beltran, Associate Professor and Director of Graduate Studies, Department of Social and Cultural Analysis, New York University, New York City, U.S.
"I think part of what attracted me to a career in academia was the promise of security…probably not a surprise given that my parents always had financial struggles. The idea of obtaining lifetime tenure was extremely attractive—it means they can't fire you! My personal business model has been about seeking out economic security rather than economic abundance. My main investment strategy was to get my TIAA (Teachers Insurance and Annuity Association of America) account as big as possible as fast as possible. My husband Matthew and I have been renters for our entire marriage, but this largely has been because one of the best things about being a professor has been faculty subsidized housing. At my first job, we were able to rent an apartment starting at $700 per month, which really helped us grow our savings (unfortunately, faculty housing at NYU is quite a bit more!)."
Traditional With A Twist
Joelle Pang, General Manager, FastJobs Malaysia, Kuala Lumpur, Malaysia
"I've now had 12 years of experience in tech start-ups. Before my first start-up, I had a side hustle in fashion e-commerce, and I had developed the habit of putting aside $1,000 per month to support it. Quite soon after, my side hustle became my main hustle when my start-up caught the whole tech/start-up wave that was sweeping through Singapore. It eventually became Singapore's leading fashion e-commerce platform! Now, as General Manager of FastJobs Malaysia (a non-executive blue-collar job platform in Southeast Asia), I drive social impact by connecting low-wage job seekers to meaningful employment opportunities through hiring innovation and leveraging technology. My personal business model is built around a mindset. I look at myself as an income-earning asset! I'm in the prime period of my career, and my guiding principle for years has been to increase my income by 10-15% annually. Whether I'm in a performance appraisal for an existing job or a new job, I look to negotiate that percentage increase in my salary. In addition to my day job, my other source of income is from speaking engagements/events, and I earn passive income from my investment portfolio."
Fee-for-Service
Priyanka Jain, Model & Actor, Sydney, Australia
"I was born in Adoni, a town in southern India and money was never discussed in our home. My father was the head of the household, and he made all the financial decisions. However, I was encouraged to get a good education, a career, and that I should always be able to support myself.
I've happily changed my career a few times: I started out in PR and marketing, then during my MBA, I worked on a strategy team at one of the major Canadian banks, and 18 months ago, I made a big change and moved to Australia to take a 'one-year' sabbatical. When I arrived in Sydney, I initially thought I'd get a job as a barista: I was feeling quite burned out from my years in the corporate world. But for a few years, my friends had been trying to get me to look into modelling, and it occurred to me that this would be a low-risk thing to try in a place where I didn't know anyone…there was no reason not to give it a shot.
This is the most control I've had in any career so far—I get to decide what to say yes to and what to say no to. I have diversified as much as possible: I'll work as an extra on movie sets, I do TV commercials, and I work as an influencer for branded content (such as Halo hair extensions). My business model is 'fee-for-service', and the pay varies between $30 per hour and $2,000 per hour based on what the job is. Brands pay for my time and for using my face. I had 80 different jobs/shoots in 2021!"
Direct Drive
Aude Baylet-Diesel, Global Account Manager, Amazon Web Services, Hong Kong (SAR), China
"Growing up I observed what was going on around me and it seemed that many people were unfulfilled. What my parents wanted out of life turned out to be quite different from what they got. They very much wanted to offer my sister and me a better life, or at least, the life of our choice. As a result of this, I had an inner fear of not enjoying my life to its full potential. From a young age, I decided to choose my dreams and objectives carefully and live them to the fullest!
I am a technology and sales professional: I've always worked in an international environment, and I've enjoyed living in the U.S., Brazil and now Hong Kong. My personal business model consists of three must-haves: enjoy freedom (with the ability to work from home, for example), earn a good income, and be inspired by other positive-minded humans. As a global account manager, I aim to climb up the hierarchical ladder, to get paid fairly, and that means selling a lot! Against the odds, 2021 has been my busiest year ever: with the shift in our daily use of digital and technology, we had to help customers, governments and more to adapt. All in all, the IT industry and the sales position give me the right balance: I am empowered to go beyond my objectives and earn rewarding commissions."
Many Sources
Lanni Marchant, Canadian Olympian and Attorney, Denver, U.S.
"I was born in London, Ontario and I'm the middle of seven children. Mom was a figure skating coach and dad did a variety of different jobs including selling used cars and installing security systems. We lived from paycheque to paycheque, and I ending up eating a lot of peanut butter on toast.
Running was a life-changing skill for me—it was my outlet and a great way to meet new friends. For me running was freedom…I was running away from a bad life. And I was very good at it! My most recent success is that after five years of absence from the marathon scene due to a variety of injuries, surgeries, and mental health issues, I was the top Canadian in the New York City 2021 marathon in 11th place.
I would describe my personal business model as eclectic. I've been working remotely since 2013 and I like to structure my own days and focus on what I need to pay for and what I want to pay for. I have zero desire to sit in an office! I earn money in a variety of different ways including running sponsorships, running races, coaching running, podcasts, fitness blogs, acting as an influencer for branded content (only if I genuinely like the brand), speaking engagements, and short-term contractbased legal work. I also love my side hustles working as a nanny a couple of days a week and dog sitting five days a week. Some people have commented: "You have two law degrees…what are you doing nannying and walking dogs?" I have no shame—I come from a blue-collar background. I love not having a credit card balance and I hate debt in general. The way I look at it? I need to walk my dog Elle either way, so why not earn an extra $250 per week taking another dog along with us? It all adds up: I was able to cover my car payments in just 18 months with this money!"
The full report "Smart women: How do they make money?" is now available on www.barbarastewart.ca.
Barbara Stewart, CFA is one of the world's leading researchers on women and finance, focusing on real life financial behaviours and providing global insights into how smart women think and communicate. In addition to her Rich Thinking® research, Barbara uses her proprietary research skills to work as an Executive Interviewer on a project basis for global financial institutions seeking to gain a deeper understanding of their key stakeholders, both women and men. www.barbarastewart.ca