Nov 16, 2023 1:53 PM
Women and Their Path To Financial Equity
Download as an MP3 by

right-clicking

here and choosing "save link as" or "save as".


Getting to Know Janine Rogan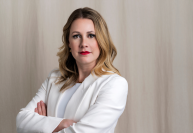 Janine Rogan, CPA, is a passionate keynote and TEDx speaker. She is the Founder and CEO of The Wealth Building Academy Inc., and an award winning CPA. Her mission is to educate and empower women to confidently and profitably grow their wealth, through financial feminism - financial equality for all.
Janine has been featured internationally by a number of publications and has delivered keynotes to thousands of individuals and companies around the world. She currently sits on the CPA Alberta Education Foundation board, the board of FESA, and the planning committee of the AICPA Global Women's Leadership Summit. Janine is pursuing her Master's in Economic Sustainability through the University of Torrens in Australia.
In spring 2023, Rogan released her debut book "The Pink Tax: Dismantling A Financial System Designed To Keep Women Broke" published by Page Two Books. In it, Janine explores the hidden ways that women are held back in our society—from overpriced women's themed items to the motherhood penalty. It debuted at #1 on Amazon for Feminist Theory books.
Janine is a University of Alberta alumni, born and raised in Edmonton, Canada. She is currently based out of Calgary where she lives with her husband Andrew, son Theodore, and pup Lazer.
Questions Asked:
1:45 Tell us the title of your book!
3:00 You talk a lot about financial feminism. What is your definition of financial feminism?
3:52 I found in your book that you were quite inclusive.
5:14 You also talk about the ways in which women have been held back financially.
6:22 What advice do you give to women about negotiating their base salaries?
9:22 You talk about your mother did better in her career financially than you did, at the beginning.
11:05 You talk about how we should pay attention to our net worth.
12:43 You also talk about daycare and the costs associated with it.
16:33 You talk about how one of the worst financial decisions a woman can make is having a child if you are a professional woman.
20:24 I know that there's a lot of women who find investing confusing and scarry because of the math.
25:55 In general, women do not look at the performance of their investments but more at what their goals are and how they can fulfill those goals whereas men tend to look for performance.
29:09 What other advice would you offer women about getting their finances in shape?
31:54 What about credit? Do women tend to run up credit card bills more than men?
33:37 You also talk about how technology can help moms!
35:30 It's amazing how much even $1 a week can add up! And how it can create good saving habits.
36:50 Your research on other country's policies concerning women was impressive. You talk about pay-gap, paid maternity leave, child care as well as policies a female representation in business.
39:00 Tell us about your upcoming events.
40:15 How would you describe the book? I think it's more of a big picture book about how women have been systematically held back financially and their path to financial equity.