Dec 16, 2022 9:22 AM
Sponsored Post
The Era of Financial Democratization and the Emergence of Blossom Social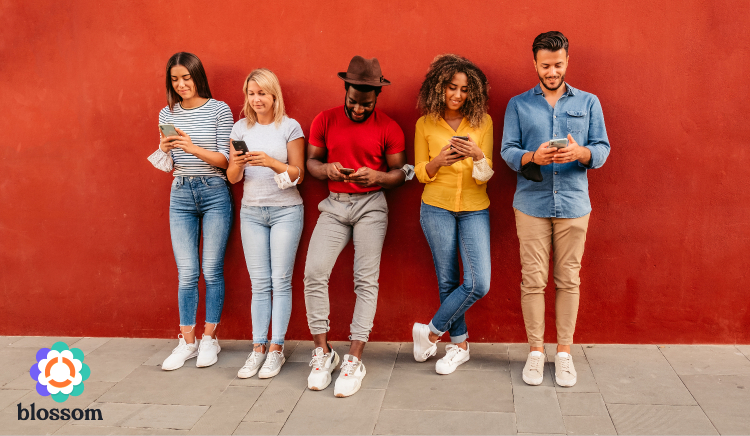 The Internet Era and Financial Information
Finance has always been a respectable career due to its contribution not only to people's retirement plans, but it also facilitates companies' ability to raise capital to create jobs and improve society. Investing knowledge was often thought to be acquired only by professionals who graduated with prestigious college degrees from elite institutions, however, that perception is no longer true.
In recent years, accessing information is no longer a competitive advantage. Far gone are the days when investors had to email the authorities and wait two weeks until they can receive a company's quarterly earnings or annual reports. Nowadays, investors just need to go to popular websites, such as SEC or SEDAR filings to instantly acquire original information at a cost of almost zero. In fact, financial information has been democratized not only in terms of cost but also its timeliness and ubiquity. For example, companies' earnings and their Investor Day have been updated live on all social platforms. Also, reputable channels such as CNBC constantly update information related to the individual company by minutes.
Trends in Financial Products and Investing Software
In addition, financial products are also more abundant in offerings to retail investors than ever before, retail investors have a variety of financial products available to them such as low-cost index funds, leveraged ETFs, short ETFs, etc…with reasonable fees.
All of these have given retail investors a level playing field that used to be only accessed by the professionals of the industry. This revolution was mostly thanks to companies such as BlackRock and Vanguard. Due to their scale advantage, these companies continue to innovate on behalf of retail investors and offer them not only access to a wider variety of choices but also more competitive fees.
Additionally, trading commissions have gone down substantially compared to previous generations. Companies such as Robinhood, which has disrupted traditional brokerage firms by creating an app that is appealing, user-friendly, and offers low to no-cost trading, are becoming more popularized. All of these advantages have revolutionized the way that investors get access to financial information and the financial markets.
Investing Access is Easy, But Success is Not
Although the barrier to entry in investing has become lower now, the barrier to success remains high. Besides accounting knowledge, analytical skills, portfolio and risk management, etc. investors need to understand their own emotions and personal limits. Therefore, constantly learning and updating new information is a crucial skill that every investor should acquire to be good at this craft. Investing is a challenging endeavour in and of itself, and investors can learn at a faster pace with a sense of community if they surrounded themselves with like-minded, hungry, young investors who are also eager and committed to self-education.
Social media is a promising place that integrates investing with the community. For younger generations, social media is their version of newspapers. In fact, adolescents use social media for a variety of purposes including building relationships and keeping in touch with friends, networking and sharing expertise with others, as well as educating and learning about the current news, and trends on an up-to-date basis.
Last but not least, one of the most attractive features of social media is that this is where freedom of information and freedom of speech is respected, and people's opinions are valued based on merits. Social media has proven to be a powerful tool to influence other people's perceptions and behaviours about a particular topic given a strong enough network of users.
The Benefits of Social Investing
A recent study by Finimize found that nearly 64% of investors under the age of 30 discuss their investments with friends and family and are three times more likely to go to friends or social media for their input about investments than financial advisors. While in recent years the idea of social media combined with investing has had an unfavourable image in the public eye, there is a highly important underlying theme at play. The mainstream opinion of 'social investing' often references terms and themes such as 'Reddit', 'meme stocks', and other high-risk names such as GameStop and AMC, but these trends merely cemented the power of social media and investing. While the popularized 'YOLO-induced' investing habits of the younger generation have taken place through 'social investing', the path forward is much brighter for the younger cohorts at large. The instant-gratification-seeking behaviour that is mentioned in the mainstream media is only a fraction of what takes place in social media investing applications. Beneath the surface, there is a plethora of informative, well-educated, and experienced individuals that are willing to share their knowledge freely. These actions, when coupled with the democratic systems of social media applications have profound positive implications for the investments of the younger generation.
The powerful effects of social networks, in the right hands, can be a beautiful thing. Positive trends in investing and education through social media is believed to be a brilliant platform for self-taught investors to grow. One of the most successful case studies about this type of platform is Public, a social investing app based in the US which was founded with the mission to become not only a brokerage but also a social community for investors. Due to its appeal to young people, since launching its beta version in November 2021, the company has quickly grown its user base to more than one million and has been nominated as one of the most innovative start-ups in 2022 by Forbes.
Meet Blossom Social
Inspired by the success of Public and amid the spike in the popularity of social investing, in 2021, Blossom Social was founded, a Vancouver-based Fintech start-up. Blossom Social is a social media platform targeting young Canadian audiences with the purpose to create a community, a social place where people who are passionate about investing can educate themselves about not only on general trends and themes about investing, but also strategy and investment insights are discussed. Blossom's community of investors is now over 4,000 strong and includes many well-known Canadian investors like Brandon Beavis and Robin Haney. A users' profile on Blossom Social not only shows their names and faces but also displays a pie chart of their portfolio by percentage, verified by their brokerage account. When a user on Blossom follows someone, they can see when they make new investments along with their rationale.
Blossom Social's mission is to build Canada's first social brokerage where investors will have the opportunity to learn from other investors including their portfolio holdings, weightings, and trading activities which are all shared among peers. Not only that, but users can also earn money from the app by completing lessons about new companies and industries. This is especially important in a year like 2022 when the global equity market has not been favourable with the majority of participants. Blossom is focused on building an investment community that enables Canadians to become better investors and includes features that ensures the most credible voices are amplified to help achieve this. More than ever, investors need a community where they can turn to and lean on in the tough environment, to make sure they are on the right track to achieve their financial goals.
Blossom Social is an intriguing place for self-taught investors to network, socialize, and educate. The company is a promising Fintech start-up with bright prospects. Overall, social investing is a new concept that connects investors with a wide range of financial participants that have varying backgrounds of knowledge and experience, and democracy lies at its core.
If you want to join the community, Blossom is free to download on the App Store and Google Play.

* The offer above is part of a lead generation partnership with Canadian MoneySaver, for which we may receive a commission. Thank you for continuing to support our work.