May 31, 2023 10:42 AM
How Do Successful Women Invest in Themselves?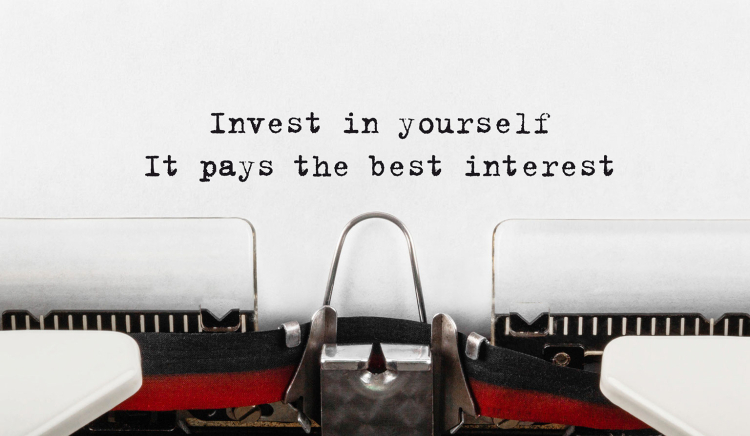 "I always count my blessings more than I count my money. I don't work for money, never did." – Dolly Parton
Last year, I interviewed 52 outstanding men and women from around the world for my research paper How smart women and men invest in themselves released on International Women's Day, 8 March 2023. I'll share ten ways that successful women invest in themselves:
#1: Go on Adventures
"In terms of investing in myself, I would say my biggest investment is in movement and adventure. This year my other half and I are off to Nepal to climb Ama Dablam, a 6,800 meter summit near Everest, and which is called the Matterhorn of the Himalayas. Nature plays a key role in my life, and I get most of my best ideas when I am trail running or ski touring. Ideas for my keynote speeches, ideas for building my business or ideas to better make an impact in my community. I've completed 34 ultra marathons…the most recent being a 100 km race in Whistler with a total elevation gain and descent of over 6,200 meters. I was one of only 22 women who finished, with a time of 22h15m. Running gives me the most peaceful feeling in the world." - Mandy Gill, Media Personality – Vancouver
#2: Make Connections
"As a journalist I spend a lot of time listening to stories and hearing different perspectives: it's a great way to open my mind. I always have to pitch story ideas so whether I am waiting on the street for an Uber or sitting in the waiting room at my doctor's office…I listen to people, and this adds another layer to my existence. I have a lot of stories saved in my repertoire! I am curious about everyone, and this is good for me both professionally and personally. Being curious doesn't cost money other than the fact that time is money. I could be working on emails when I'm sitting in the doctor's office but I choose to talk to people instead. It requires a lot of presence to be where you are and to actually connect with people." - Laura Maia de Castro, Journalist - São Paulo
#3: Take on a Big Challenge
"I love to learn, I learn a lot while I'm working, and I always do stuff that challenges me. Every year I decide on the big challenge that I want to take on, then I go out (along with my fears) and try it. The challenge can be anything from taking the management team to a new level to learning how to stand up and speak in front of a big audience. I really think it is important to dare to do stuff you aren't sure about…especially as women. I would love to see more women as executives and founders." - Lior Wilczynski, Co-Founder & CEO, morning by Green Invoice – Tel Aviv
#4: Educate Yourself
"In terms of investing in myself, education is high on my priority list. I am constantly learning things: I'll repeatedly sign up for courses on stuff that I want to master. Econometrics courses are my most recurrent theme – I want and need to be familiar with the latest techniques on how to model financial risk. Of particular interest to me is watching how various people explain their area of expertise. Investing in my own understanding of the world is the best thing I can do for myself financially and I'll never regret it." - Raffaella Tenconi, Founder & Managing Director, ADA Economics – London
#5: Find The Right Balance
"There are so many different ways that you can invest in yourself – the key is that you need to find the time to pursue whatever that looks like for you - make sure it happens! I don't feel bad about finding the right balance for me. I choose not to spend time hanging out with friends because I have lots of socializing via my work events and I make daily exercise my priority. I tell my five year old daughter that I'm a better mom when I run! You can't have everything but you can have a lot." - Anna Jonsson, Head of Institutional Clients and Distribution, Storebrand – Stockholm
#6: Get Fit!
"I had never invested in any type of physical activity growing up since my Thai Asian family worked all the time. There was no time for sports outside of school and in school I sucked at sports! I knew I needed some other interest, so I started practicing yoga and even took the yoga teacher training. I soon realized that I was not yoga teacher material, but this did give me the opportunity to learn about myself.
Five years ago, my husband and I joined a gym next to our apartment complex. It was often empty, and the trainers had nothing to do so they taught us how to do squats and deadlifts. I didn't realize that it was possible to lift more than my body weight! Powerlifting empowers me: when you lift something very heavy you think "Okay…if I can do this I can do anything!" - Nopparat Rerkpisut, Senior Lawyer, AI and Robotics Ventures - Bangkok
#7: Give Back
"I like to invest in others: I want to give back. Ontario College of Art was remiss in telling students it is one thing to be an artist, but it is quite a different thing to be running a small business. Once a month I teach in various cities around the world: I have a lot of useful information and I don't want the students to make the same mistakes that I did. It took me years to learn how to say no and how to ask for more money. The advice I would like to pass on to the next generation is to keep putting one foot in front of the other and learn from your mistakes. If you have a dream, don't worry about having to juggle to make it happen. If you need to have a job to get there…there is no shame in that." - Anita Kunz, Artist and Illustrator – Toronto
#8: Book a Nanny
"Traditionally people hire babysitters when they "go out" at night but I always felt like I wanted the sitter to be there the next morning so I could have some time for myself. One of my best ideas for self-care has been to book a nanny to look after my kids while I read. I think this is probably a great idea for a small business – I should put together a list of nannies you can call on the spur of the moment and ask, "I'm having coffee and want to be on my own and the kids won't let me…can you come around?" - Laurence (Cante) Kerjean - Marseille
#9: Practice Self-Talk
"I constantly remind myself not to compare my progress or success with friends from high school or university: they don't have the same goals as I do. I think about "What do I want?" Also, I remind myself not to let other people get me down. Even if they mean well, I don't need to take their advice. Lastly, I think part of coping with stress is not to be too fussed about long-term planning. Don't think beyond two weeks. You can plan all you want but things change. Enjoy the moment." - Laurel Teo, Behavioral Scientist – Singapore
#10: Get a Healthy ROI
"Ensuring that your investment offers a healthy return is a choice – it's based on your actions and decisions, not some random act or chance occurrence. It requires thorough research and due diligence to know if an investment will pay off, but more than that, it requires confidence and commitment that you'll make sure the money you spend on yourself will be well worth it in the long run." - Aydan Kurnaz, Founder, MySummerBlue – Istanbul
Barbara Stewart, CFA is one of the world's leading researchers on women and finance, focusing on real life financial behaviours and providing global insights into how smart women think and communicate. Barbara is an advocate for women, for diversity, and for financial education. In addition to her Rich Thinking® research, Barbara uses her proprietary research skills to work as an Executive Interviewer on a project basis for global financial institutions seeking to gain a deeper understanding of their key stakeholders, both women and men. Barbara is a frequent interview guest on TV, radio and print, both financial and general interest. She is a contributor to the CFA Institute's Enterprising Investor website. For more information about Barbara's research, please see www.barbarastewart.ca