>
>
Canadian MoneySaver Events
Canadian MoneySaver Events
Upcoming Canadian MoneySaver activities are described here. The only activities listed are those attended by Peter Hodson and other MoneySaver staff. MoneySaver does not make transcripts, reports or videos available for any of its conferences. Please call (519-772-7632) or e-mail Canadian MoneySaverfor further information.
Past Canadian MoneySaver Events - View the wide range of conferences and other special events hosted by Canadian MoneySaver. Our future events are listed below.
---
Webinar with Kyle Prevost from the Young and Thrifty
"Save and Invest Your Way to Early Retirement."

If you know grade 9 math and want to retire a millionaire the rest isn't that hard. Tune in to hear Canadian MoneySaver's personal finance experts talk about how to save and invest your way to success. You might not get rich quick, but getting rich gradually isn't too bad either!
When: February 12, 2015
Time: 7:30 pm EST or 4:30 pm Pacific
Cost: FREE
---
Webinar with Don Dony from the Technical Spectator
BEYOND FUNDAMENTALS
;
How Economics And Intermarket Ratios Can Aid The Investor

Investors usually lean toward fundamentals for stock selection. And although they provide a guide to equities, there are often missing components such as economic strength, market direction, the yield curve and the U.S. dollar that add significant bearing to the investor's decision process and potential profit. In the webinar, I will discuss the importance of recognizing whether the markets are in a commodity or equity cycle, key economic indicators for the investors and the role of the U.S. dollar. I will also review the significance for sector rotation within the business cycle and several key consumer driven ratios.
When: Feb 21, 2015
Time: 1pm EST or 10am Pacific
Cost: FREE
---
Join Peter Hodson as he hosts Bill Carrigan and Norm Rothery
for an informative seminar.
Feb 28, 2015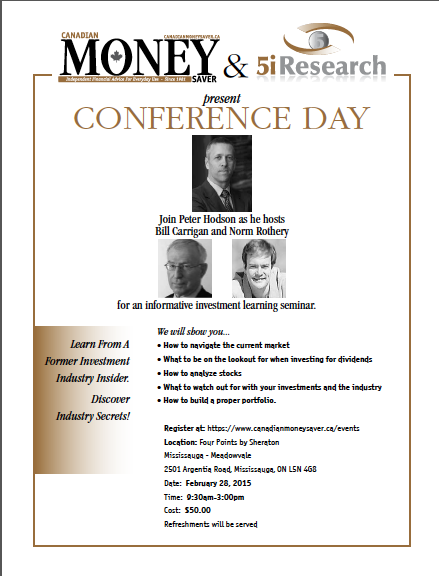 ---
Join Alan MacDonald for a
FREE Webinar
"GETTING CONTROL OF YOUR CASH FLOW
NOW AND FOREVER"

Date: March 28th, 2015
Time:
12pm

EST •

9am

PST
Cost: FREE
The dreaded budget, also known as living within our means, is the most powerful tool we have for accumulating wealth and then making that wealth last a life time. Unfortunately, budgets can be time consuming, a source of conflict and downright boring. Alan has discovered a way through the complexity and clutter, and will share how to construct a budget that is effective, easy to start and easy to stick with.
More than ever we need to be able to effectively manage our cash flow. Retirements, once short lived, now last upwards of thirty years. Your portfolio will need to both provide income and a buffer against many years of rising costs. Alan will demonstrate how, once you have your cash flow in control, you can make a meaningful and useful retirement plan that will help you preserve and grow your wealth.
---
Webinar with
Dan Bortolotti
from
The Canadian Couch Potato

When: May 2, 2015
Time: 11am EST or 8 am Pacific
Cost: FREE
Building the Perfect ETF Portfolio
Overwhelmed by the number of ETFs in the marketplace? Not sure how to use them as building blocks in your portfolio? We'll go through the steps of designing a long-term, broadly diversified ETF portfolio that's appropriate for your goals.
---
Join Peter Hodson and Canadian MoneySaver
on the Pacific Dreams Cruise abord Oceania Cruise Lines.
January 25, 2016 to February 4, 2016
Click Here for more information