>
ShareClubs
ShareClubs
You may join any of the listed ShareClubs by contacting your local volunteer. Like-minded members get together to share financial information. You can, too, right in your own neighbourhood. No cost. No obligation. Just an inquiring mind.
The agenda for each group is shared by all group members, i.e. it is not just the responsibility of the contact person. ShareClubs are unlike investment clubs because they are meant to share investing information only.
When ShareClubs are filled, they are delisted. Thus, someone needs to start a new club by volunteering to arrange the first meeting. At this meeting, membership decides on its future direction. Contact MoneySaver and volunteer to start a ShareClub in your area.
We would like volunteers for other regions. Call 519-772-7632 or e-mail us. We've provided an information sheet on Starting a ShareClub along with a Helpful Hints sheet to help get you started. Alex Kobelak of the Mid-Island's ShareClub has kindly provided a description of how their club was organized.
At the bottom of this page is a listing of the ShareClubs.
Ron Beaton of the Ladner/Tsawwassen ShareClub has provided their clubs privacy policy and statement of purpose documents. As Ron states "We thought it was a good idea to have this formalized. It is important that members feel safe in sharing personal information knowing that it will not leave the room. Each member signs a copy which is kept on file."
Ken from the Calgary Shareclub has also provided their New Member Survey, as well as their mission statement.
Helpful Tips
ShareClub News Items
---
ShareClub Corner: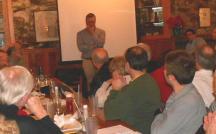 Peter Hodson, Editor of the Canadian Money Saver, met with the combined Guelph and Kitchener/Waterloo ShareClubs at the historic Huether Hotel in Waterloo. He was introduced by Richard Gerson, leader of the K/W club, to a group of over 50 attendees who had convened to hear Peter discuss his approach to individual small- and mid-cap stock investing. An appreciative audience listened as the speaker described his involvement in the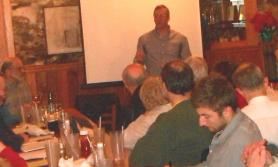 investment business over the past 25 years and the parameters he feels are important in stock selection. One of Peter's main take-home points was to be on the lookout for businesses who declare their first-ever dividend. Time and again these companies go on to outperform the market. Peter answered a wide range of questions posed by the group on a variety of investment topics to wrap up a most informative meeting.
SUBSCRIBE
To the Print edition of Canadian MoneySaver Magazine for $26.95 (+tax) per year