>
>
>
Recently Published Books
Recently Published Books
View a selection of financial books by publishers who specialize in financial titles. Books appearing here have been previewed in Canadian MoneySaver. Other financial titles that have been featured in Canadian MoneySaverare also shown below. These financial titles can be purchased at most local bookstores and through online bookstore services.
---

The Little Book of Big Dividends – A Safe Formula for Guaranteed Returns by Charles Carlson, John Wiley & Sons, C$23.95, ISBN: 978-0-470-56799-9
Charles Carlson comments: "This book is a blueprint for successful dividend investing. In the book I walk you through the basics – what a dividend is (and isn't); why, how and when companies pay dividends while others pay no dividends at all. I also discuss the importance of size and safety of dividends when considering dividend-paying stocks, as well as the ability to buy attractive dividend-paying stocks directly via DRIPs and direct purchase plans. Additionally, I provide you with a simple yet powerful formula for finding what I call "Big, Safe Dividends (BSDs). My ?BSD Formula? takes into account factors most critical to the safety and growth potential of a company's dividend and can be used by any investor to find attractive dividend stocks."
Chuck Carlson is the recognized expert in the U.S. on "no-load" stocks. More information at http://www.BigSafeDividends.com.
---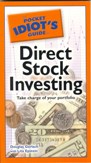 The Pocket Idiot's Guide to Direct Stock Investing
by Douglas Gerlach with Lita Epstein, Penguin Group, $13.50, ISBN:978-1-59257-995-2
Direct stock purchases (DSPs) of American stocks can be completed without using a broker. How to do this is clearly outlined by the authors. Step-by-step instructions for purchasing your first DRIP stock are explained.
Even if you buy only Canadian DRIPs, the content is insightful.
---

Crossing the 49th – The Complete 2010 Guide to Finding and Importing a U.S. Boat into Canada
by Kris Olson, $10, e-Book.
There has never been a better time to buy a boat from the U.S. Favourable exchange rates and a downturn in the U.S economy have produced many amazing deals – discounts of 30% are common. Here is a detailed e-book published in 2010 by Kris Olson, which explains the entire process. You will learn:
* How to find a U.S. Boat - links to key websites
* 3 important pitfalls to avoid when importing
* How to evaluating your dream boat from afar
* The purchasing process – detailed step by step instructions
* Hidden costs you need to KNOW!!
* Transport options and costs
* A simple budgeting tool for a true total cost of importation
* Border, customs and taxation rules in simple English
* 3 common oversights that could cost you BIG money
* All required forms you will need throughout the process
To order visit www.importingusboats.com
---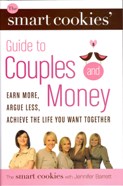 The Smart Cookies Guide to Couples and Money: Earn More, Argue Less, Achieve the Life You Want Together
by five Canadian women known as the Smart Cookies, Random House of Canada, $29.95, ISBN: 978-0-307-35798-4
This hip and accessible guide addresses all of the nagging money questions and thorny situations that come up when you're in a relationship – whether you're just starting to get serious or you're already married.
Find answers to:
* How to start a money discussion.
* How to split the bills.
* How to manage your money together.
* Whether you should merge your bank accounts.
* What to do if she's a spender and he's a saver.
* How to know if you're financially compatible.
* How to talk about the life you want together and what it will cost.
Tackling the topic of money early on and speaking openly and honestly with each other about the issues that arise can save couples a lot of stress and heartache down the road. When you synchronize your financial goals and agree to the part you'll each play in achieving them, you'll reach them much faster.
---

Tax Planning – For You and Your Family 2010
by tax editors, Carswell, $23.95, ISBN: 978-0-7798-2209-6.
This perennial favourite from the national tax practice of KPMG is a comprehensive, yet succinct, pocket guide.
It is loaded with year-around financial advice for every sort of taxpayer. Tax tips and highlighted scenarios in every chapter will help both the novice and the veteran taxpayer keep more of their annual income within the family.
---

Life, Money and Illusion by Mike Nickerson, New Society Publishers, $22.95, ISBN: 978-0-86571-659-9.
This updated edition of Life, Money and Illusion was inspired by the dilemma of living on a finite planet with an economic structure that is hard wired for growth. It looks at the resilience of life, reviews the basic elements of mutual provision (economic) and examines how growth, once beneficial, is bringing about economic and environmental collapse.
It then outlines how the economy can be restructured to remain within planetary limits, and points the way to a sustainable future.
Techniques to shift the dominant economic paradigm from growth to sustainability include:
Measuring progress with social, economic and environmental indicators;
Encouraging investment in the community;
Honoring the Golden Rule instead of the Rule of Gold; and
Focusing more on living than on stuff.
---

Prescriptions for a Healthy House
by Paula Baker-Laporte, Erica Elliott and John Banta, New Society Publishers, $28.95, ISBN: 978-0-86571-604-9
Although there is nothing complicated about constructing healthier homes, building for health is still not standard practice, and, in fact, there are many aspects of conventional home construction that are detrimental to human well-being.
From foundation to rooftop, to home care and repair, Prescriptions for a Healthy House takes the mystery out of healthy-house building, renovation and maintenance by walking the owner/architect/builder team through the entire construction process. Chapters include:
frame construction alternatives,
thermal and moisture control,
finishes,
flooring, and
furniture.
The authors, an architect, a medical doctor and a restoration consultant, bring a singular combination of expertise and perspective to this book. The result, now in its third completely updated edition, is a unique guide to creating healthy indoor and outdoor spaces, including many new resources, as well as specialized knowledge from several nationally recognized experts in the field of building biology.
---

The Little Book of Main Street Money
by Jonathan Clements, John Wiley, $23.95, ISBN: 978-0-470-47323-8
In this book, Clements brings readers down to earth with commonsense guidance that will put them on the path to clear and intelligent money management. From the big picture (home, retirement and life) to the micro (taxes and inflation), Clements offers readers clear-cut guidelines for taking control of their financial life and details the strategies needed to thrive in today's volatile economy.
The 21 truths outlined throughout this book are a guiding light for every one, young and old, just starting or soon retiring. From the obvious to the counterintuitive, each truth will either bolster returns or cut costs. Collectively, the 21 truths are a compelling guide to today?s treacherous financial terrain. Renowned for his spirited writing and shrewd investment guidance, Clements is the same voice investors need to keep them grounded in the midst of so much financial insanity.
---

The Boomers Retire - A Guide for Financial Advisors and their Clients by Lynn Biscott, Carswell, $45.00, ISBN:978-0-7798-1765-8
Although this title is aimed at financial advisors, all prudent investors will find this book jammed with practical advice. It is one of the best retirement titles available today. Order directly at 1-800-342-6288.
---

Unbelievably Good Deals and Great Adventures That You Absolutely Can't Get Unless You're Over 50
by Joan Rattner Heilman, McGraw Hill, US$16.95, ISBN:978-0-07-159884-2.
And you, too, probably think the title is long. This American book is long also — long on hundreds of money-saving travel tips. Dale has used Joan Heilman's travel suggestions for years.
---

Security Analysis (sixth edition)
by Benjamin Graham and David Dodd, McGraw-Hill Ryerson, C$81.95, ISBN:978-0-07-159253-6. Security Analysis, first published by McGraw-Hill nearly 75 years ago, forever changed the theory and practice of successful investing. Written in the midst of the Great Depression and in the wake of the 1929 stock market crash, the book convinced the nation that stocks were still worth buying and became a bible for generations of investors, the most famous being Warren Buffett. Its timeless advice is as relevant today as when it was first published.
To update each of the seven parts of Security Analysis, a team of leading value investors with expertise in the seven areas was assembled. Each contributor wrote a new introduction in his area of expertise, from fixed-income to distressed investing. They present new commentary that will refresh and update the 1940 edition, which is considered the definitive edition by many Graham aficionados including Buffett. This edition also includes a CD-ROM of the original text.
---

Plan C - Community Survival Strategies for Peak Oil and Climate Change
by Pat Murphy, New Society Publishers, C$19.95, ISBN: 978-0-86571-607-0.
Concerns over climate change and energy depletion are increasing exponentially.
Mainstream solutions still assume a panacea that will cure our climate ills without requiring any serious modification to our way of life.
Plan C explores the risks inherent in trying to continue our energy-intensive lifestyle. Using dirtier fossil fuels (Plan A) or switching to renewable energy sources (Plan B) allows people to remain complacent in the face of potential global catastrophe. Dramatic lifestyle change is the only way to begin to create a sustainable, equitable world. The converging crises of peak oil, climate change and increasing inequity are presented in a clear, concise manner, as are the twin solutions of community (where co-operation replaces competition) and curtailment (deliberately reducing consumption of consumer goods). Plan C shows how each person's individual choices can dramatically reduce CO2 emissions. It offers specific strategies in the areas of food, transportation and housing. One chapter analyzes the decimation of the Cuban economy when the USSR stopped oil exports in 1990, and provides an inspiring vision for a low energy way of living.
Plan C is an indispensable resource for anyone interested in living a lower energy, saner, more sustainable lifestyle.
If you accept the plethora of research supporting energy depletion (oil, gas and coal) and climate change globally, you must read this book. Written without big business or a political bias, this objective author provides the framework for future development. Shrewd investors be aware.
---

The Little Book that Makes You Rich: A Proven Market Beating Formula for Growth Investing
by Louis Navellier, Wiley, $23.99, ISBN: 978-0-470-13772-7.
The Little Book That Makes You Rich is a clear and in-depth guide, details eight key fundamental measures including accelerated earnings growth and rapid sales growth, plus Navellier's exclusive quantitative ranking which measures buying pressure. An explanation of alpha and beta reveals Navellier's unique approach to measuring reward and risk. A companion website, www.getrichwithgrowth.com, allows readers access to Navellier's stock-rating tool, PortfolioGrader Pro. This online tool applies Navellier's detailed formula to the nearly 5,000 stocks on Wall Street. The website combined with the book offers a powerful system and rare opportunity for individual investors to gain access to tools and data that hold the key to building a winning growth portfolio.
---

The Economics of Happiness - Building Genuine Wealth
by Mark Anielski, New Society Publishers, $20.95, ISBN:978-0-86571-596-7.
Why, in spite of increasing economic prosperity over the past 50 years, are many conditions of well-being in decline and rates of happiness largely unchanged since the 1950s?
Why do our measures of economic progress not reflect the values that make us happy: supportive relationships, meaningful work, a healthy environment, and our spiritual well-being?
Economist Mark Anielski has developed a new and practical economic model called Genuine Wealth, to measure the real determinants of well-being and help redefine progress.
---

The Complete Guide to Buying and Owning Recreational Property in Canada
by Douglas Gray, John Wiley & Sons, $26.99,
ISBN:978-0-470-83972-0.
Real estate expert Doug Gray offers valuable insights and tips on purchasing and owning recreational properties, from cottages, to condos, to chalets.
Topic areas include:
Buying the right property, for the right reasons, in the right location;
How to set a purchase and financing strategy and how to negotiate your best deal;
How to exercise caution when buying with family or friends and how to keep peace in the family when sharing use or ownership;
Getting the help of professionals, such as a tax accountant, lawyer, home inspector, mortgage broker, insurance broker, and realtor;
Obtaining tax and estate planning strategic advice to save tax on transfer, sale or bequeathing of the property, or inheriting a property;
What you need to know if you are buying recreational property as an investment;
Special cautions if buying a vacation home outside of Canada;
Creative ways of using your vacation home for exchange or barter; and
Key strategies to follow and classic pitfalls to avoid.
---

Mortgages Made Easy
by Douglas Gray, Wiley, $26.99, ISBN: 0-470-83732-2.

With the vast selection of mortgages and mortgage options available today, it is easy to get confused over which one is best suited to the needs and requirements of the borrower. And while lots of information on mortgages is available from banks and brokers, Canadians need unbiased advice.
Mortgages Made Easy by Doug Gray is a comprehensive look at mortgage options for Canadians who are in the market to buy property, whether it is for their primary residence or as an investment. Real estate lawyer and author Gray gives readers insight into the sometimes confusing and overwhelming world of mortgage products. Topics include:
Types and sources of mortgages,
Key factors to consider when selecting a mortgage,
How to negotiate a mortgage and look for key areas that can reduce payments,
Key legal considerations,
Creative financing techniques,
Borrowing for investment purposes/investing in mortgages,
RRSPs and mortgages,
Strategies on renewing, refinancing or prepaying a mortgage,
Important forms, charts, checklists and amortization tables.
Other key areas Gray covers include selecting a real estate team, government-assisted programs (e.g., CMHC), financing options for seniors, investing in mortgages, and where to go to get more Canadian-specific information.
---

The Little Book that Beats the Market
by Joel Greenblatt, Wiley (U.S.), C$25.99, ISBN: 0471733067.
Although it sounds like an audacious claim, Columbia Business School Professor and hedge fund manager Joel Greenblatt says he can teach you how to beat the market.
Using basic math skills, simple concepts and a wry humour, this book is a no-nonsense (okay, a little nonsense) approach to buying good companies at bargain prices. Greenblatt's track record speaks for itself. As founder of Gotham Capital, his company has enjoyed average annualized returns of a staggering 40% for over 20 years.
The magic formula doesn't rely on predictions of any kind. It has been tested over hundreds of different periods and thousands of stock picks and while it takes a bit of effort and a little more patience, Greenblatt says his approach can be mastered by almost anyone.
---

Simply Essential Funeral Planning Kit by Don Cochrane, Self-Counsel Press, $15.95, ISBN: 1-55180-382-8
The Simply Essential Funeral Planning Kit is designed to provide the reader with a fundamental understanding of the procedures and purchases involved in funeral planning. Written in an easy-to-read format, it includes facts, guidelines, a Q&A section, samples, appendixes, a glossary, and suggested reading and Internet links. A floppy disk containing worksheets is also included.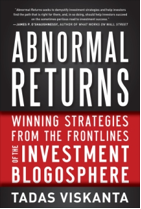 It's easy to see why the Abnormal Returns blog is so popular. Tadas Viskanta makes sensible observations and comments, backed up by a depth of informed and clear analysis. His book is an excellent "back-to-the basics" conversation about modern investing that can be read by the seasoned investor for amusement, ideas, and interest, as well as for reassurance through both the bad and good times. His book is a readable meditation on the basic principles of investing, with the eternal truths well up front. The book has numerous important insights. For example, bond funds are not bonds, because they have no individual maturity date. However target-date bond funds are the equivalent of bonds since you get the principal back on maturity. If you didn't know about target-date bonds, this comment alone is worth the cost of the book. Will this book help you get "abnormal (positive) returns" in a market that's essentially been static during "the lost decade"? Can you do better than a passive investor in the market? Yes, but the title and subtitle of the book may promise more than it delivers. It will however help you avoid the classic investment mistakes, and to stay focused on the basic principles. It's a book for the experienced go-it-alone investor wanting to reflect on their approach, and to challenge or fine-tune their thinking about how they are managing their investments.
John Prescott, Guelph
SUBSCRIBE
To the Print edition of Canadian MoneySaver Magazine for $26.95 (+tax) per year