>
>
>
Our Contributing Editors' Books
Our Contributing Editors' Books
---
Sideways, Using the Power of Technical Analysis to Profit in Uncertain Times by Keith Richards, BPS Books, $16.60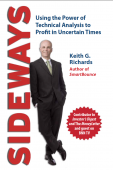 Today's sideways stock markets — markets that have hit both a floor and a ceiling — are likely to be with us until the middle of this decade or later. But you don t have to feel disoriented, according to Keith G. Richards. In his new book on investing, he shows you how to think and act like a technical analyst by understanding the basics of market realities — from phases to trends to formations and cycles. "Sideways" will help you profit from a financial reality that others are unsuccessfully fighting or fleeing.
Smart Bounce, 3 Action Steps to Portfolio Recovery by Keith Richards, BPS Books, $17.72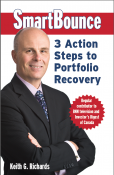 Many investors watched in horror as 30% or more of their portfolio vanished during the market massacre of 2008. If you are one of those investors, this book will teach you a better - and safer - way to invest. In SmartBounce Keith G. Richards describes three actions steps for recovering your portfolio: Choose the right time. Achieve the right balance. Be in the right place. Keith G. Richards, CIM, FCSI, CMT, is Portfolio Manager of ValueTrend Wealth Management. Following his investing approach - which is summed up concisely and compellingly in this new book - his clients actually made money during the Great Recession. Keith is interviewed regularly on BNN TV for his technical opinions on the markets and writes columns for "Investor's Digest of Canada" and other publications.
---
The Mindful Investorby Maria Gonzalez and Graham Byron, John Wiley & Sons, $26.95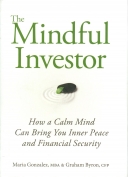 The most recent market meltdown saw trillions of dollars disappear from the North American economy, and the financial markets drop more than 44% from their highs. Daily volatility was immense, with swings of up to 1,000 points in a single day. A vicious cycle of fear and greed caused panic and suffering for individual investors, investment advisors, and pension fund managers alike.
The Mindful Investor shows you how to use a single tool — Mindfulness Meditation — to achieve clarity, focus, and peace of mind with your finances. Oprah, Eckhart Tolle, and Phil Jackson have done much to bring meditation out of the mystic shadows. This book continues to do so, offering simple and practical tips to learn Mindfulness and combine it with sound financial planning principles — no chanting or patchouli required.
---
The Idiot Millionaire – You Can Become Wealthy
by Derek Foster, Underhill Financial Press, $19.95, ISBN: 978-0-9736960-4-2 (2011)
This book shows you how to invest to create wealth, regardless of your investment knowledge. The reality is that many investments are not worth owning at any price. This book explains what ma

kes a good investment and gives you an actual list of quality investments that you can buy, hold and become wealthy with.
Derek lists his dozen investment criteria and then follows by highlighting specific dividend-producing stocks that meet these criteria. Canadian companies include: Royal Bank, Power Financial, Enbridge, Tim Hortons, Shoppers Drug Mart, Imperial Oil, Rogers Communications, Leon's Furniture. U.S. companies include: Visa Inc, Philip Morris International, Pepsico Inc, Starbuck's, Wal-Mart, Proctor and Gamble, C.R. Bard, Strayer Education.
MoneySaver members can purchase Derek's book at 25% off the regular price and no shipping charges in Canada. Your price is $14.95 + GST = $15.70. Order toll free at 888-686-7867.
---

The Little Book of Commodity Investing
by John Stephenson, John Wiley & Sons, $23.95, ISBN: 978-0-470-67837-4 (2010).
Commodities are hot and getting hotter. Slumping supply and voracious demand have set the stage for a massive bull market in the real things that you use every day. As global growth resumes, a powerful rallying cry for commodities is about to be heard around the world.
A rapidly industrializing and urbanizing Asia will be demanding lots more copper, zinc, iron ore, coal, fertilizers, gold and oil to transform their societies. Commodities are it and that?s great news for investors who want to profit from the next great bull market in commodities. In fact, commodities may be about the only asset class that is likely to outperform the broad market in the future.
Although they are without a doubt important to the global economy, commodities are among the most misunderstood of all asset classes. Venture into the world of commodities and you are into an area that?s intimidating to the average investor. As a result, commodities get short shrift in most investment accounts and investors miss out on some important opportunities.
John, a contributing editor to Canadian MoneySaver, talks about:
Why commodities are the next big thing.
Why big oil is here to stay.
What investors need to know about gold, and if now is the time to buy.
Why China's ascension is unstoppable and what investors need to know.
---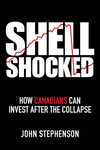 Shell Shocked – How Canadians Can Invest After the Collapse by John Stephenson, John Wiley & Sons, $32.95, ISBN: 978-0-470-16087-9 (2009)
Shell Shocked turns the conventional investment wisdom on its head by providing compelling evidence that buying all things Canadian is a savvy bet, not a foolhardy gamble. Best yet, the global economic collapse has offered Canadian investors a once-in-a-lifetime opportunity to prosper, while investing right here at home.
In Shell Shocked, Bay Street veteran John Stephenson pinpoints the links that have brought the world to the brink of economic collapse, and offers a compelling rallying cry for all Canadian investors in a sentiment sure to be echoed around the investing world: buy me all the Canada you can get!
Rich in detailed, fact-based analysis, Shell Shocked explains what to buy and when to buy it. The world has changed, and so has investing. Shell Shocked is your blueprint for investing success.
Dale Ennis, editor-in-chief, Canadian MoneySaver comments: This book ranks in the top three investment titles that I have read by a Canadian for Canadians. Investing for the future? You must read this compelling and thought-provoking book.
Canada has been the top-performing country to invest in between 2000 and 2009. John documents the reasons to expect this trend to continue.
---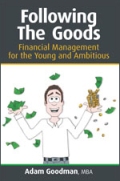 Following the Goods: Financial Management for the Young and Ambitious by Adam Goodman, Blue Pig Publishing, $15.99, ISBN: 978-0-9811260-0-5. Available at www.followingthegoods.com (2009)
Writer and young professional, Adam Goodman, shares his recipe for financial freedom with in his first book, Following The Goods: Financial Management for the Young and Ambitious. From the basement of his mother's house, Goodman tells the story of being 28 years old, well educated, employed and broke!
Using his own life experiences as a guide, Goodman offers readers, both young and old, the opportunity to take financial management into their own hands with easy-to-follow tips and lots of practical advice.
"Most of the material directly relates to the author and young people in general as all the chapters contain real life examples of things that happened to the author and lessons he learned from those experiences. This is one of the best, most enjoyable aspects of the book..." Jesse Michelsen, www.pffirewall.com.
eBook now available!
"Following The Goods" is now available as an eBook! Visit lulu.com to purchase it. The eBook is available as an ePUB so it will work with all eBook readers. The eBook is available as an ePub so it will work with all eBook readers.
---

Spend Smarter, Save Bigger - Finding Big Savings in your Home, Mortgage, Vehicles, Insurance and Investments
by Margot Bai, White Knight Books, $19.95, ISBN: 0-9780570-3-1 (2006)
This book, Spend Smarter, Save Bigger helps Canadians turn things around by finding big savings on their biggest expenses. Bigger savings make it possible to pay off debts faster and build a solid financial foundation.
Spend Smarter reveals the secret savings available to average Canadians by making smarter financial decisions. Choosing a shorter mortgage term carries some risk but usually offers the lowest rate. Buying a vehicle privately from a motivated seller will save thousands over dealer mark-ups. Acting alone, without the help of a highly paid sales agent, will save tens of thousands in commissions when selling a home or purchasing mutual funds.
Readers will benefit from practical advice tailored specifically to the needs of Canadians, with topics including the Home Buyers' Plan and RRSPs. Easy to read, each chapter contains a story that highlights a financial truth in an entertaining way. Saving money is the one reliable path to wealth that anyone can follow. While other personal finance books focus on small savings, Spend Smarter will boost savings by thousands each year, eliminating debts and accelerating the path to financial freedom.
---

The Border Guide: A Canadian's Guide to Living, Working and Investing in the United States
by Robert Keats, Self-Counsel Press, C$24.95, ISBN: 978-1-55180-830-7 (2010)
The Border Guide is the definitive guide to cross-border financial planning for Canadians who either live in the U.S. seasonally or all year round. It also includes useful information for U.S. citizens living or just investing, in Canada.
This updated edition includes extensive new information on the Canada/U.S. Tax Treaty, the impact of the higher Canadian dollar, new border issues since 9/11, and many small regulatory changes that are needed to keep the book current.
Many Canadians incorrectly assume that the laws governing investment, taxation, and immigration are the same in the U.S. as they are in Canada. This easy-to-follow guide can help anyone transact their cross border business affairs with confidence.
Avoid getting caught by fluctuations in Canadian currency,
Qualify for old age and social security benefits on both sides of the border,
Get the best from both the Canadian and U.S. medical systems,
Buy a retirement home and deduct the mortgage interest from Canadian tax returns, and
Receive Canadian pensions in the U.S. - almost tax-free!
---

Tax Tips for Canadians for Dummies
by Brian Quinlan and ssociates, Wiley & Sons, $19.99, ISBN: 978-0-470-15516-5 (annual)
Brian, a contributing editor, and associates have written the most comprehensive tax book available for taxpayers. Written in layman's language, the book is filled (342 pages) with tax strategies to reduce the amount of tax you'll pay.
There's advice on understanding: what's new; taxable benefits versus non-taxable benefits; employment, pension and investment income; capital gains and losses and much more. Business owners, families and those planning for retirement will profit from the tips and money-saving advice.
---

The Contrarian Investor's 13 - How to Earn Superior Returns in the Stock Market
by Benj Gallander, Viking Canada, $34.00, ISBN: 0-670-04336-2 (2002)
Unconcerned with the daily pulse of trading, Benj is focused on the broader strokes of long-term financial investment. His rules work from one decade to the next – from one overvalued "spike" in the market to another. Featuring an in-depth look at stock market facts and fallacies, this wise and unconventional system shows you how to improve your financial returns on your own, so that you can gain the riches and security needed to pursue more of your dreams.
As a reader of Canadian MoneySaver, you should know Benj's style and no-nonsense approach to investing. This book details Benj's strategy for successful stock picking.
Since Dale Ennis, editor of Canadian MoneySaver, wrote the forward for this title, you can deduce that he supports Benj's practices. He also wants Benj to celebrate a Canadian bestseller. No more should be said.
The autographed hardcover edition is available directly from Benj for only $30 total
Benj Gallander, 34 Stonegate Road, Toronto, ON M8Y 1V5
SUBSCRIBE
To the Print edition of Canadian MoneySaver Magazine for $26.95 (+tax) per year