>
Old or new home - which offers more value?
Old or new home - which offers more value?
You've decided to buy a house - should it be an old or new one?
"Different costs are associated with old and new houses," says Chartered Accountant Glenn Collins, Partner with Welch & Company LLP in Belleville.
Do your homework and determine your priorities, advises Chartered Accountant Silvano Zamparo, Partner, Collins Barrow (Vaughan) LLP in Concord.
"A house is the largest single purchase you will ever make, so consider your lifestyle and what you really want – a neighbourhood or a house."
What are some of the different costs involved in purchasing an older versus a new home?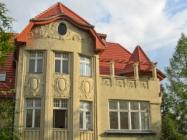 According to Collins, in an older home costs can be significant. They include ongoing maintenance, window and roof replacement, and updating insulation and the electrical system.
"Depending on the area, you may have a limited resale market because people are wary of extra costs. Before you sell, you may also have to upgrade certain systems, including water management and septic systems to conform with the current building code. Some municipalities and financial institutions are beginning to require these upgrades now.
"With new homes, financing may be easier to obtain. Builders often arrange mortgages as part of the sales process and offer higher ratio mortgages requiring less money down. In contrast, when purchasing an older home a 25-per-cent down payment is often required," advises Collins.
"Also becoming more common, especially in newer homes, is a 40-year amortization period – not the usual 20-or 25-year amortization – which means you pay more interest over the life of the mortgage. You may also encounter some unanticipated expenses, such as installing a driveway or landscaping your property, which can be very expensive."
Zamparo explains that it's important to look at the big picture and consider your lifestyle.
"With a new home, you should be confident you are purchasing a top quality home with all the latest technology and built-in compliance with the Ontario Building Code, which is very stringent. The higher the price point, the better the quality home and neighbourhood.
"There are also risks in buying a new home. The plans may be impressive, but you don't know who your neighbours will be, which could lead to a financial risk down the road. You can always update your house but not the neighbourhood," cautions Zamparo.
"If it is a home in a new subdivision, no infrastructure is in place – including schools, parks, public transportation and shopping malls. You will also pay GST on a new home, which will add to your costs.
"Once you've determined your priorities, then look at your budget," advises Zamparo.
There is some good news. Part of the GST paid on your new home may qualify for a GST rebate, and if you are one of those people who spent a lot of money fixing up your old home, there is also a potential GST rebate waiting for you.
In the final analysis, costs are only one consideration – because buying a home, old or new, is a personal and emotional decision.
For further information, contact a Chartered Accountant.
Brought to you by the Institute of Chartered Accountants of Ontario.


Brought to you by the Institute of Chartered Accountants of Ontario.
Click Here to subscribe to the Print edition of Canadian MoneySaver Magazine
for $26.95(+tx)per year.
SUBSCRIBE
To the Print edition of Canadian MoneySaver Magazine for $26.95 (+tax) per year