>
>
MoneyServices
MoneyServices
The MoneyServices offered here are additional information tools that you may find beneficial for your personal finance plans. Canadian MoneySaver has identified the soundness of these financial products/services. We believe that you will appreciate being made aware of their work.
---
Interested in DRIP investing?

Helping Self-Reliant Investors since 1981
With direct investment plans (DRIPs), you don't need much money to start investing. You don't have to have $2,000 or $2,500 on hand to open a brokerage account. Instead, you can begin with next to nothing and end up with a bundle. That's because DRIPs make it possible to invest as little as $25 or $50 directly into your own account with the company--without going through a broker' and without fees or commissions. Your investment buys shares (or fractions of shares) based on the market price of the stock on the company investment date.
As a member of Canadian MoneySaver, you can now purchase a one-year Drip Club Membership for $79.99 down from $100.00.
You will Receive:
Full Access to directinvesting.com website, the foremost authority on Direct Investment Plans (DRIPs). You get prospectus details for every company that offers direct investing.
INVEST%, This proprietary contrarian tool enhances the benefits of dollar-cost averaging.
PortfolioKeeper, designed specifically to track DRIP-style investments, integrates plan prospectus details with your specific portfolio.
Advanced DRIP Search, to help you identify the stocks that meet your portfolio requirements.
Burke's Portfolio Advise: Specific Buy, Sell and Hold.
Bowser Portfolio: Diversify further with his conservative approach to investing in these speculative low price stocks.
Model DRIP Portfolios: All six portfolios have performed better than the market as a whole.
Monthly DRIP portfolio choices: 18-20 stocks selected based on the specific criteria described.
Market commentary and investing guidance from the team that has helped self-reliant individuals accumulate wealth for more than 30 years.
50% discount off the cost of DRIP enrollments.
Enter Promo-Code

C-DW-CM-1112

Click https://www.directinvesting.com/order.cfm?prodTermID=7&offerchoiceid=314 to get started.
---
Your Advisor Knows You; But Do YOU Know Your Advisor?
Courtesy of Kenmar Associates, Investor Education and Protection, download this PDF to make sure your Financial Advisor is right for you, and help you protect yourself and your investments.
---
An Introduction to Dividend Investing
David Stanley has written a three-part series as an introduction to dividend investing. He examines the 3 main ways to invest in dividends: mutual funds, exchange-traded funds and common stocks. David Stanley provides background information on his investment strategy in the report "Beating the TSX" which is available to Canadian MoneySaver members here.

---

has redesigned their website with valuable information for all investors. Visit GetSmarterAboutMoney.ca (a non-profit website set up by the Ontario Securities Commission) providing unbiased money and investment information. Some of the new features are highlighted below:
---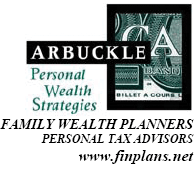 The Little Tax Fact Book - We have done an update of The Little TaxFact Book effective August, 2012. This booklet is provided compliments of Ed Arbuckle, FCA, CFP, TEP, Personal Wealth Strategies, fee-based family wealth planners, 205-30 Dupont Street E., Waterloo, Ontario (519) 884-7087 or (877) 883-3970 www.finplans.net
2011 Personal Tax Preparation Checklist - Ed Arbuckle, a Canadian MoneySaver contributing editor, has supplied a handy checklist that should assist you in preparing for the completion of your 2010 tax return. Provided compliments of Ed Arbuckle Financial Services Inc., Waterloo, Ontario, (519) 884-7087 or (877) 883-3970 www.finplans.net
This Executor's Checklist for Estate Administration may be helpful in connection with the preparation of the final tax returns for deceased individual. Provided compliments of Ed Arbuckle Financial Services Inc., Waterloo, Ontario, (519) 884-7087 or (877) 883-3970 www.finplans.net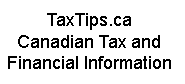 Taxtips.ca offers a variety of calculators to help you assess the tax implications, risks and rewards of investing. For those debating RRSPs vs TFSAs you should try their new TFSA vs RRSP calculator. Some of the other calculators offered are:
Get money out of your RRSPs tax-free (sort of)
RRSP/RRIF calculator
Borrow for RRSPs calculator
RRSP vs mortgage calculator
Borrow to invest calculator
---

Financial Calculators
The following Specialty Financial Calculators are provided by Fiscal Agents Financial Services Group who offer a wide array of financial calculators and worksheets to assist in common money-related situations. Links to a select few are below.
www.FiscalAgents.com - offers over 30 money management calculators, worksheets and household cash management tools.
---

Compulife Software Inc., which has provided rate comparison software to life insurance brokers since 1982, is now offering a consumer life insurance comparison service called Term4Sale. Consumers can do their own multi-company comparisons of life insurance by visiting the Term4Sale website.
This Internet service is provided at NO CHARGE. Term4sale provides comparisons of the actual premiums for your age, sex, and smoking status for any face amount that you select. You can compare from several categories of guaranteed life insurance products: Level Term, Term to 100 or Whole Life. In addition, Term4Sale will provide you with important advice on what factors to consider when shopping for insurance and how to locate the best life insurance broker in your area.
Compulife Software does not sell life insurance. Compulife provides comparison software to over 3,000 subscribers throughout North America. Subscribers, who are also members of the Independent Life Insurance Brokers of Canada, have been invited to join a list of brokers which Compulife maintains in postal code order. When you call Compulife toll-free you will be given the phone numbers of three brokers in your area. Brokers listed by Compulife have agreed that they will provide you with further information and answer your questions at NO CHARGE. Compulife believes that finding a good broker is as important as shopping for a competitive policy.
If you do not have access to the Internet, and you would like the names of three Compulife subscribers in your area, you can call Compulife toll-free at (800) 567-8376. For further insight on purchasing life insurance a must read is The 4 Biggest Mistakes People Make When Buying Life Insurance.
Robert Barney completed a three-part series which dealt with the subject of how much life insurance you need. The three articles are provided here for you:
---
.
SUBSCRIBE
To the Print edition of Canadian MoneySaver Magazine for $26.95 (+tax) per year